Hello all. My name is Don, I'm 22 and I've been living with dogs for as long as I've been alive. I started fostering when I was 16 and in the process rehabilitated 6 wonderful dogs and found them their forever homes. My crowning glory was a rottie mix named Ursala. When I brought her home she was just a tiny little thing, half starved and scared of her own shadow. When I took her into the vet they said she couldn't have been much older than 6 or 7 weeks old. I found her stumbling down a rural road 10 kilometers away from the nearest house. Even starved and exhausted she was so scared that it took me an hour to catch her. After six months of hard work she blossomed into the big, bouncy, happy, confident dog I knew she could be. Letting her go to her forever home was one of the hardest things I've ever had to do.
Fostering dogs has been one of the most rewarding experiences of my life but it has also been pretty emotionally draining, so I'm taking a break from it for a while and remedying the fact that I don't currently have a furkid of my own. I went to the humane society today and fell in love with this handsome fellow: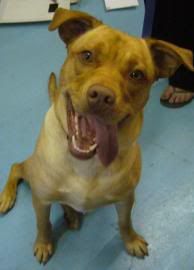 His name is Nacho and he's every bit as goofy as he looks. When I took him out to the play pen he ran around like a maniac, jumped around and danced for joy for about a minute, then made a bee-line back to me and washed my face. It was an instant love connection. He was listed as a retriever mix, but his head is very bully. I'm 90% sure there's a fair bit of pit in there. What do you all think?
I just about filled out the application to adopt him then and there, but I've never worked with a pit before and I want to know all I can before I commit to bringing him home. That's why I'm here!
See you all around the forums.