My names Luis and my trusty sidekick is Buddah, a 6week old chocolate colored pit.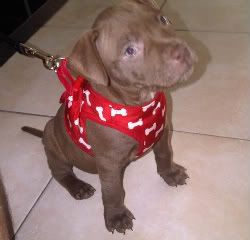 His father is the red nose and his mother the blue nose.
I was told one is Razors Edge and the other is Gotti. Unfortunately Buddah didn't come with papers so I'm not sure how true this is.
So far Buddah seems great! he comes when called, shows no aggression when eating and is doing great in potty training. Being a first time pit owner I hope to get a lot of help from this forum on rasing Buddah to be a happy healthy dog!