Hello everyone!
My name is Laura. I'm a 45 year old married Pit Bull owner in sunny Florida on the Gulf Coast. I am completely new to the breed and am actively reading up on all the legislation and about the breed in general. I've been around dogs my entire life - a sweet mutt that I showed in 4-H, a Basset Hound, Dobermans, Weimeraners, and my most recent two dogs that were my adult life dogs were half sibling Bull Mastiff mixes. My boy recently went on to the Rainbow Bridge at 14, following his sister who went on 6 months ago.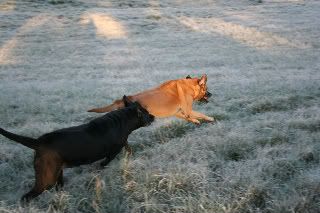 Our current girl is what I guess is a blue Pit Bull? She's the color of a Weimeraner and a nice small size. We got her from a rescue that specializes in Pit Bulls who even brought her to our home to see how she was with our cats. So far she's been an awesome girl - loves everyone and even has fun visiting with the neighbors and their male dog. She has a sweet personality and it's been a joy to be able to take her places and not have to warn people that our dogs nip.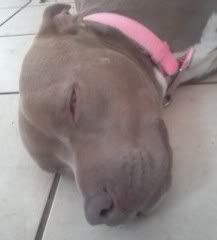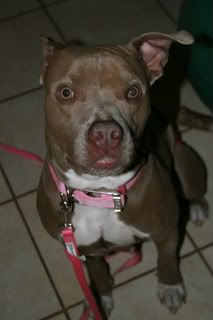 Our other furbabies are two kitties - Minou - 8 and Lissie 14, and Edward the Guinea Pig who was rehomed to us (he's very grateful he found us!).
I am very interested in holistic living and eating well - both for humans and our furbabies. I used to work at a holistic dog/cat store in Miami and loved it. I've also ridden horses, am married to a French guy, lived in Argentina for a year and have a 5 year old munchkin who I spend my days with.
Laura