Hi everyone,
I am new to the forum, so you will have to bare with me until I get the hang of it.
A little bit about me:
My name is Carly. I am 20 years young. I am married to a Marine and we are currently stationed in Eastern NC. I am full time student at DeVry University majoring in Health. My husband I are originally from Florida, so we are grateful that we are so close. Since we have been married we have moved twice both cross country(FL to CA and CA to NC).
I never had an APBT growing up, but my parents did have a Miniature Bull Terrier. He would run around in circles really fast, but only when he got on the carpet. That is when I fell in love with Bullies. I would research about different types and their behavior. Being around friends that have Pit Bull's just made me want one that much more. Seeing how sweet and intelligent they are made me have to have one. I did research on their temperaments and everything to make sure I was ready.
Now to the best part;
Everyone meet Ayla
Ayla will be 4 months Aug 15. We got her when she was 8 weeks old. She has been such a pleasure having. She catches onto commands quickly and that is outstanding. We also have a Siberian husky, his name is Kato and he just turned 1. They have become best friends.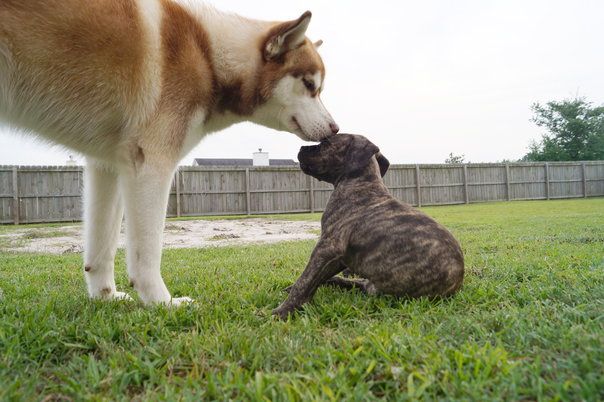 We thought we would get a girl, so the pups wouldn't want to dominate one another and end badly. We are blessed with a house and a big fenced in backyard here in NC, which is great for our furbabies. Ayla loves
to chase after Kato in the yard which is good because Huskies love to run. She loves to sunbathe as I like to call it, even when it is the hottest part of the day. I try not to leave her out long so she doesn't over heat. She is a little cuddle bug and wants to be on top of you or around you whenever possible. She is a "food driven dog" as the vet tech likes to call her. I took her in for a couple shots and to get micro-chipped, so the vet gave her treats to distract her. She was amazing didn't whine or anything the whole time, she just wanted to get her paws on another treat
.
I will stop rambling now (:. I am so glad that I can be a part of this forum. I, of course, don't know everything and I am looking forward to learning new things. I will be looking for all my answers on here from now on.