Greetings everyone,
Obviously I'm brand new to the forum, I've been a pit bull owner for the last 5 years. I had always viewed pit bulls as a trendy breed and therefore was turned off from owning one. My rescued off the street GSD had passed, and I shortly after ran across an abandoned adolecent female pit bull in an empty apartment at my job. I have a big heart for dogs and couldn't call the pound or leave her there so I took her home and the rest is history. I must say that I have come to really love this breed now, and Nina one of the best dogs that I've owned. She embodies pretty much all the positive attributes of the breed.
Other than that... I'm a single mid 30's guy living by myself with my first child on the way, that enjoys socializing, spending time with my girlfriend, and quiet times scouring the internet to expand my quest for useless knowledge.
Im here to learn new things and maybe get a few questions answered that I've had, mainly, the one regarding that girlfriend and child on the way...
... stay tuned
... [url][URL=http://www.imagebam.com/image/489135289721440]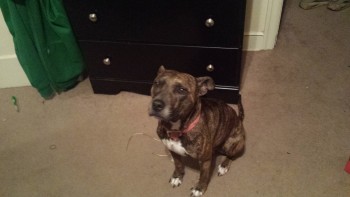 [/url] [/url]
Oh yeah this is the only pic I have on my phone of the dog right now and I'm not at home but hey this is Nina.