first off ...
what's up everyone?
long time lurker, and i think first time poster.
the name is john, but who cares about me ...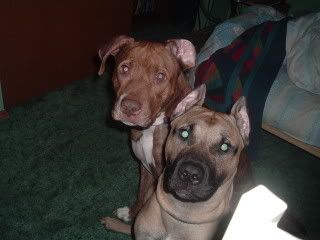 the guy on the left, that's tenko. the guy on the right, that's duke.
picture is from this past january. at that time duke was 7 months old and tenko was 2.5 years. lost my digicam at a show that same month, so haven't had any new pics since then.
anyways...
greetings and salutations. i currently reside in northeastern pennsylvania for the next 4 days, and on sunday duke and i will be moving to los angeles permanently. got a nice big house out there with a front and back yard, and i hear he's pretty stoked. tenko will be stayin' here with my dad, seeing as how they're best friends and all.
anyone want to give me some tips on having a pit in los angeles? are there any special laws or registrations that i need? i want to have everything a-ok with him the day we get out there.
also, does anyone have info on volunteering for the pit bull rescue out there? i definitely want to dedicate any free time i have to that.
thanks a bunch.
- john