haha I like this guy
My name is Cristy and I'm with the Volunteer State Bulldogger Association (
www.vsbulldoggerassoc.com
), we're located in Middle Tennessee. While most of my childhood I had dogs, they where all mixed breeds. I'm very new to APBT being introduced to the breed 8 months ago through my boyfriend. I've jumped in with both feet, since falling in love with this wonderful breed I've become a volunteer for the VSBA and do everything I can to help. It amazes me that a breed such as the APBT one who is brilliant, great, with kids, athletic, and can do anything you take the time to teach them can be so misunderstood. I'm looking to learn as much as I can about the breed, and like being apart of forums where I can ask questions when I get lost and such
.
We have a few dogs, here is two.
This is Boo Boo she has her champion on the treadmill.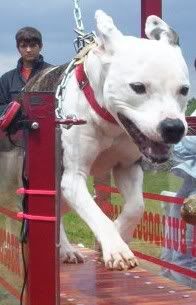 This is Moses he has his champion on the treadmill, and in hang time.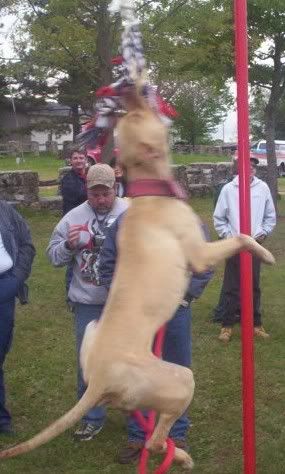 Most of my time is spent doing stuff for the club, raising my 2year old daughter, and spending time with my bf. My other interest include but are not limited to writing(mostly poetry), reading(anything interesting), exercising, "scrap booking", and sleeping when I have the time.