Hi, my name is Carolyn. I'm a first-year vet student in Georgia. I first fell in love with pit bulls working in a small animal clinic in Charleston, SC where we saw a lot of them. I was really impressed with how sweet they are! I went to undergrad in Georgia and one of my friends from work owned 3 pit bulls. One day he told me that he and his wife had just rescued another pit bull whose owners were about to take her to the humane society. I met her a few days later and fell in love with her! So I decided I would adopt her, but I needed them to continue fostering her until I graduated and moved back home because I was living in an apartment that didn't allow large dogs. I visited with her every weekend and took her on long walks in the woods so she would get to know me and not be so upset when I moved her into a new home. That was almost a year ago now. Her name is Roxy, she is spayed and is almost three years old. She's spoiled because being in vet school I get all kinds of free goodies!
She was fat when they first rescued her, and I don't think her previous owners ever walked her or anything. At first she was so scared of everything outside. She has improved tremendously, though she still has some strange phobias (like my 3-ring binders).
She loves my 5-year old nephew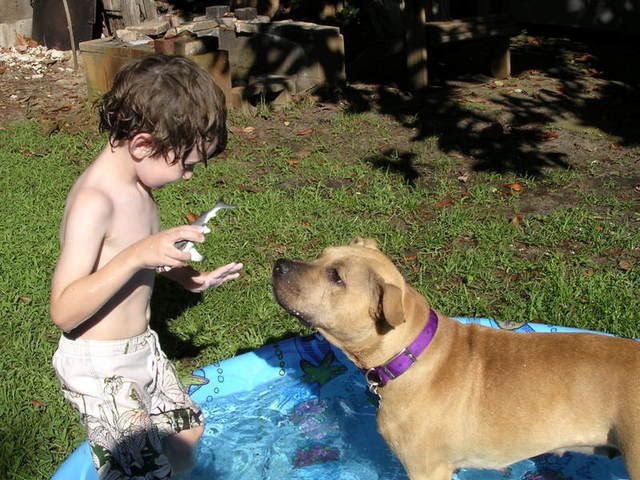 This was her Halloween costume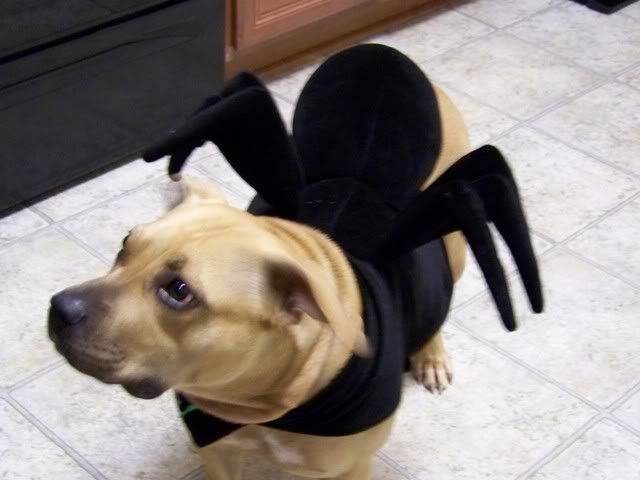 I am so glad that I adopted her. She is so loyal and sweet, and I love her thick little wiggly body. We are working on walking well on a leash right now, and she is learning really fast. She does have some dog aggression problems, and I am trying to figure out a good way to desensitize her to being around other dogs.
Anyway, I hope you'll welcome us to this forum, it looks like a great place!