Hello everyone....
My name is Stephanie, I'm 27 from Mid-Michigan. Myself and my fiance are currently owned by 10 dogs - 8 permanent residents and 2 fosters. I'm fostering for 2 great rescues, Mid-Michigan Boxer Rescue and Chicagoland Bully Rescue. I also co-run a reptile and exotic small animal rescue, which I've been involved with for 12 years.
So, on to what everyone probably wants to see, the doggie crew....
My oldest, Duncan - 14 years old, collie/english setter mix, 45#. Adopted as a puppy from an aquaintance with an accidental litter. Pretty happy and healthy for his age.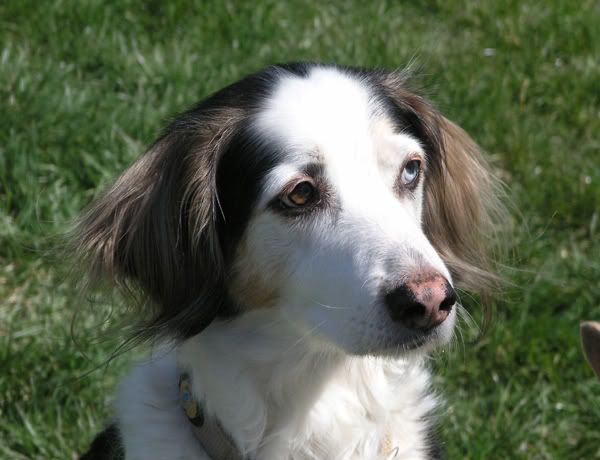 Hannah - approx. 6 years old, weim mix, 50#. Adopted when she was 2 from the local animal control on Christmas Eve - was due to be put down on Christmas, and we just couldn't let that happen!
Ralph - approx. 5 years old, border collie/ aussie shep mix, 55#. Adopted from rescue. Started losing his eyesight about 2 years ago, now almost completely blind.
Hank - approx. 3 years old, pittie, 50#. Adopted from a crappy group that called themselves a rescue. Was originally a chain dog in Detroit, was lucky enough to be pulled out before Detroit AC got to him and relegated him to pit row. He's a total pain in the butt, but I love him to death
Rupert - approx. 4 years old, pit/dane/boxer mix, approx 80#. Shelter pull.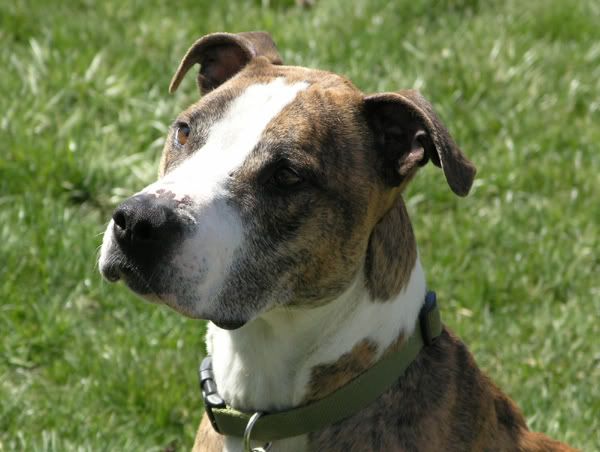 Peggy - approx 3 years old, staffie, 45#. Shelter pull. Totally HBIC and she knows it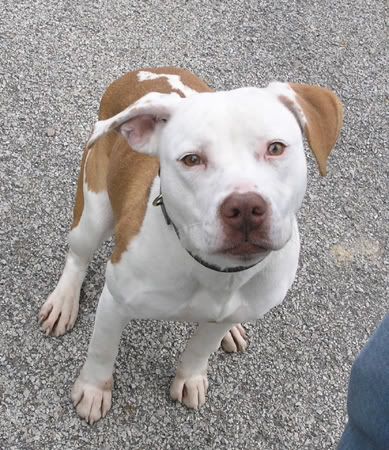 Rusty - approx. 4 years old, pittie mix, 55#. Another shelter pull.
Stuart - approx. 3 years old, bull terrier, 50#. Pulled out of a shelter just ahead of being sold to a class b dealer for research.
And the 2 fosters....
Booker - 1.5 years, olde english bulldogge, 85#. Super sweet boy, but dumb as a box of rocks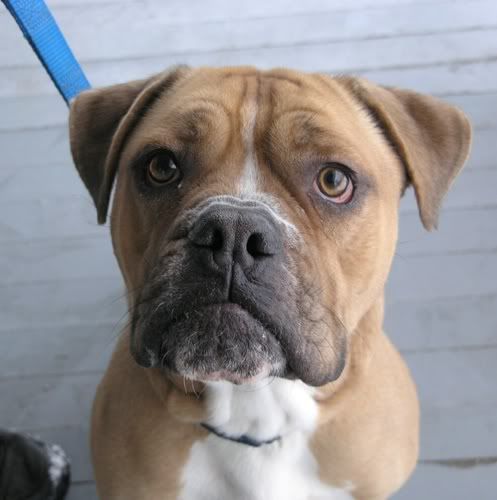 Benson - the newest addition to the household, just brought him home 2 days ago. approx. 6 years old, pittie, 60#. Was a shelter pull. Sweet, needy boy with some health problems. Vet's best guess is that he was at one point hit-by-car and suffered a broken pelvis that went untreated. Is underweight and wobbly in the hind end with hock and knee problems due to the hip/pelvic weakness. Will find out this week if surgical correction is an option. Also has some skin issues from being in the shelter so long.