---
Definatly a good looking boy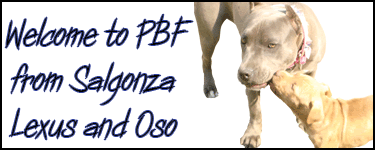 ---
Newborn Bully
Posts: 33
Joined: Sun Feb 17, 2008 12:03 pm
Location: Tuscaloosa, Alabama
Contact:
Welcome to the forum! Glad to have ya!
VERY cute pup by the way
---
Addicted to PBF
Posts: 6532
Joined: Fri Oct 06, 2006 11:09 am
Location: www.r3k9s.blogspot.com
Welcome to PBF! Cute pup.
Please tell us more about you and your pup
---
Forum Junky
Posts: 3109
Joined: Mon Oct 02, 2006 11:01 pm
Location: Farmington Hills, MI
Contact:
Welcome to the crew!! We're always looking for stories, so please share!!
---
Addicted to PBF
Posts: 4548
Joined: Tue Feb 06, 2007 3:45 pm
Location: San Marcos,Tx
Contact:
---
---
Who is online
Users browsing this forum: No registered users and 7 guests