i love harvey's ruff wear float coat. it's the portage float coat, but they've since changed the design.
harvey's buddy beckett has the newer design and he likes it just as much.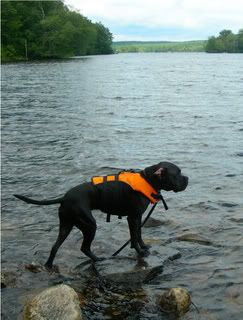 (the lower half of it is black. i don't have a picture where you can see it any better, unfortunately)
my only complaint about it is that harvey (50lb) is a size small, and it fits great except that the strap across his chest isn't quite long enough. there is a nylon strap with a plastic clip across the chest, and then there's a strip of velcro to hold the front of the vest closed under that nylon strap. harvey's chest is too broad and the velcro doesn't line up exactly like it should. it doesn't seem to bother him or slow him down any, and despite his sometimes violent swimming style, the velcro has always held , and the clip strap has never been in danger of giving way. if something happened to this one, i'd replace it with the same thing, but that little detail does annoy me.