It occurs to me that the last female dog I lived with was a fluffy butted cairn terrier, and all the others have been male dogs, so I'm not used to such an open view of the workings of bitches. Well, used to it or not, now I've got one.
Back story for those who don't know:
Liberty was found after being hit by a car about three months ago. She spent two weeks in the vets office - a vet I've had no other experience with, but Lib's Sugar Momma has used frequently, and likes and trusts. She was spayed there, and we were told it was a touch-and-go surgery because they discovered after opening her up that she was entering a heat. She came home a few days later (May 1) and has been with me since. There is still a very visible scar, but I've not noticed any soreness, oozing, or unusual redness.
But what I have noticed was the rather noticeable uh... protrusion of her private areas. I've only ever noticed this on intact females, and not seen anything at all on spayed females. However, I admittedly don't spend a lot of time staring underneath the tails of dogs, so I had convinced myself I've just never noticed anything before.
Well, today we were out in the yard, and I noticed in the ... crack? ... that there was redness, like what could be described as blood. Not drippy or anything, just red right in there. Lucky for you, I couldn't get a very good picture of it, because for some reason modesty over took her when I started pulling on her tail with one hand and pointing a camera at her with the other hand.
Unlucky for you, I did get a picture of the protrusion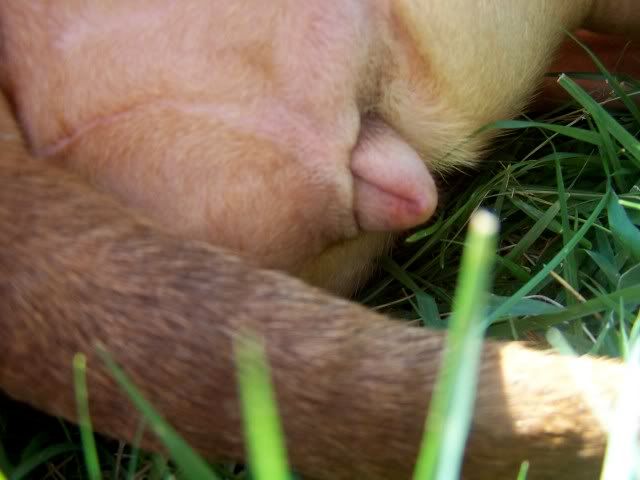 So now I'm sitting here with conspiracies brewing -
Did the vet pretend to spay her, but not spay her, and the tech who wanted to adopt her was a pawn in an elaborate pit bull breeding scheme?
Do I need to take her to a (DIFFERENT) vet?
Or is this normal and we should all agree to never speak of my paranoia again?