Let me start by saying that Bruno obviously has had skin issues with both types of mange and the irritation of the embedded collar. But that is healing very nicely, the mange is all cleared up. So last week I noticed that he had "bumps" on his back. The were bumps at the skin that were pushing the hair up in little tufts. If I separate the tufts that stick up funny, I find a bump (not red) but with crusty, dry flaky skin on it. Almost like a scab. I would say there are easily 20-30 of these little spots all over his back and hip area. I have been keeping an eye on them and trying to decidd if I should worry about them or not.
Fast forward to tonight. I picked him up in a cradle position to wrestle him and saw that his belly/groin area is all broken out in many bumps that are raised and bright red. These were not there yesterday. I found a couple of the flaky spots around the edges of his belly...a bit further into the fur.
As for diet/exposure...nothing has changed. He is fed kibble: Nature's Choice Lamb, chicken and rice. He gets a daily supplement of fish oil and vitamin E . No other meds and nothing else has changed.
So here we go....I did my best on photos. Oh and sorry for the doggie crotch shots. Obviously I couldn't show you without getting his manhood in the pic. I am sure you can all handle it though. LOL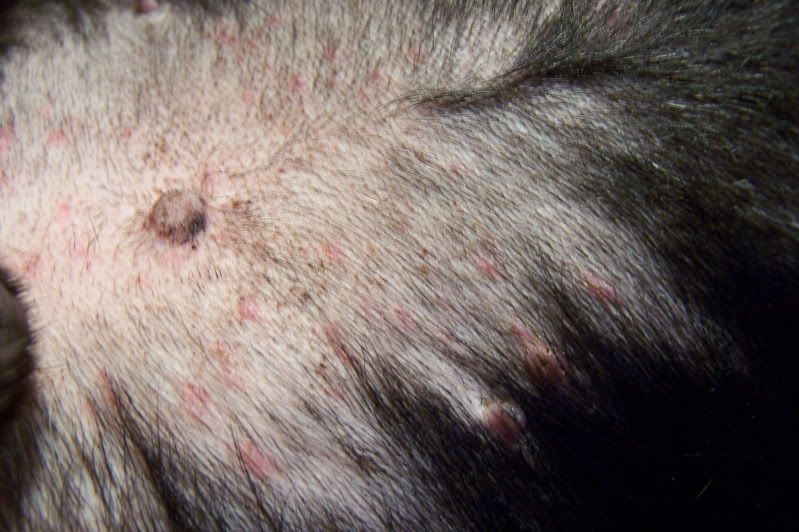 This is a photo of a dry flaky spot (all over his back too)