Alexis has a scab thats in the form of a quarter size circle on her leg. It feels like a scab and the outside is scabbed. It is raised a little bit. Any ideas? I will have a pic as soon as they send to my email
---
Moderator
Posts: 6369
Joined: Thu May 08, 2008 9:13 am
Location: Palm Bay Florida
Sounds like ringworm or the mange that is localized. Get that picture up quick so other people can give advice. It's likely going to need a vet visit though.
---
Sounds like a lick granuloma. We're dealing with one right now as well. Plenty on the net about these and how to deal with them. It can be tough because dogs don't like to leave 'em alone. Is it on the wrist area?
---
Ringworm was my first thought-wash your hands and don't touch it anymore until you know for sure! I've had ringworm before (twice...), right on my neck-looked like a big ol' hicky!
---
---
Bully Ambassador
Posts: 2611
Joined: Mon Aug 06, 2007 8:40 pm
Location: 6 months 'til baby town
Oh no! That's big. :o/

I don't have any useful information but good luck on finding out what it is and getting rid of it.
---
Yup..looks just like the granuloma that Butch has on his back leg, except the hair has fallen out of (or been licked out of) the spot on his leg. They sometimes start as bug bites or scratches, and the dog just licks and licks at it until it forms this raised patch of skin. Can be tough to deal with because it becomes habitual for the dog to lick at it. Butch is on an oral anti-histamine to prevent itching right now and a topical antibiotic to help dry up the area and prevent infection. Vet told us to wrap it as well, but the darn dog keeps eating the bandage.
Do you notice Alexis licking or biting at that area?
---
Don't wrap it up let it get some air and let it dry off, my dog had one but smaller and it just went away.
That's a huge one tho, good luck it looks really nasty if it comes off might want to go to the vet if possible.
---
I havent seen her touch it yet.
---
Does she spend any amount of time crated or alone? Sometimes they'll lick when they're bored or anxious, so she may not be going after it when you are around. A trip to the vet wouldn't be a bad idea though.
---
Bully Lover 4 Life
Posts: 1284
Joined: Thu Sep 21, 2006 12:45 am
Location: Northern Virginia
Yoda had
http://www.veterinarypartner.com/Conten ... C=0&A=1676
Here is a photo of how it looks today, it looked more like the one in your photo when I first found it. I thought, after some internet research, that it was Ringworm, and rushed him to the vet. But $132.00 later, needle aspiration and examined under microscope she diagnosed it as a
Histiocytoma
. It showed up literally overnight. One day it was not there, the next day it was.
I am not saying that is what your pup has, but it is another possibility.
A fuzzy photo a week prior 08/21/10: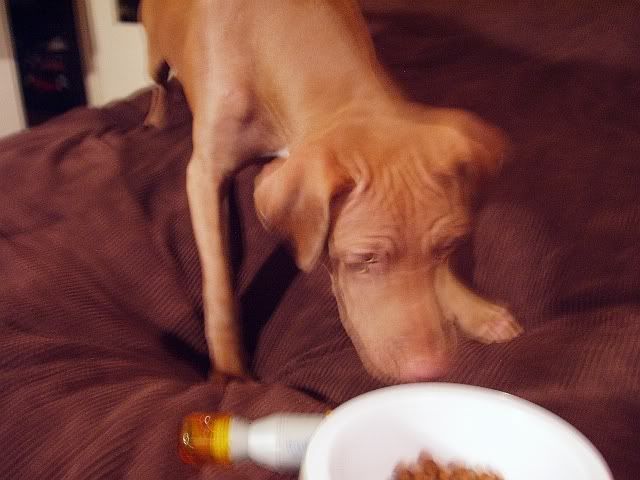 taken today 08/28/10:
---
Addicted to PBF
Posts: 10498
Joined: Sat Feb 04, 2006 9:37 pm
Location: Iowa City, IA
Too big to be a histiocytoma, too furry to be a lick granuloma... not sure what it IS... but based on what little I can see an insect bite is at the top of my list.

If its still there, I'd definitely have a vet take a look.
---
---
Who is online
Users browsing this forum: Baidu [Spider] and 20 guests