So last week I found a lump on Phoenix's toe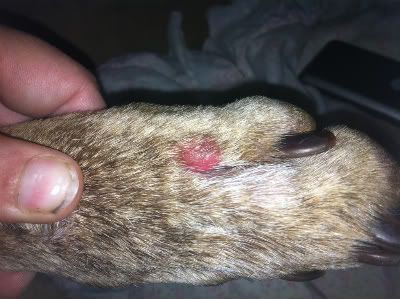 It hasn't gone down since then it actually seems to have gotten worse and seems a bit scabby now.
I was told by a 5th Year Vet Student friend it could be a grass seed granuloma, a histiocytoma (self limiting benign lump) or Mass Cell Tumor.
What concerns me now is that she has had a second lump appear in the exact same place on her other foot
She has also in the past had a similar lump show up on her thigh a while back but I thought nothing of it.
After reading some of the stories about MCT it is a little worrying and I want to check it out asap.
We are booked to see the Vet tonight at 6 pm and I am just asking for lots of good vibes and wishes for it to be nothing major.
Thanks in advance