1st all i would like to let everyone know that socks has recovered from his surgery to remove 6 mct's. here he is giving me a goofy look.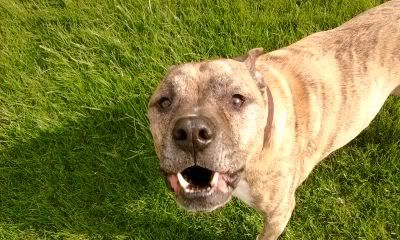 so with that problem out of the way we have a couple more things that popped up...
socks is turning 11 soon and old age is catching up. his arthritis from his hip dysplasia is getting worst. i have him on glocusomine and it helped for years but now it seems it isnt so much.
i cant give him anything else because he has elevated kidney enzymes which leads me to our next problem.. he is on hills kd diet and i think its not providing good nutrition as he has lost a little weight. that and he doesnt eat it like he should. i called the vet and he gave me an alternative diet i cook up but that is gonna be tough keeping up with the demand of hamburger needed.
so i was wondering if anyone here has some good ideas i can run past the vet on our next visit ?
thanks as always, George