Hello everyone - it's been quite a while since I've been here! I have an almost 5-year-old pit bull named Koda. He's always been a generally healthy dog, so the past few weeks have been a saga that I'd love to get some feedback/input/advice on!
A month ago today, making it April 29th, we returned from a long walk in the park. My fiance stayed with Koda while I walked more around our neighborhood. After 30 minutes, I returned to this: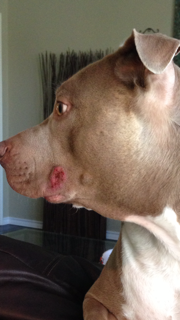 We treated with Bendryl and ice. It went down that evening and was gone within 3 days, allowing us to assume it was a bite or sting of some sort.
Three weeks ago today, exactly a week after the bite, he went three-legged lame overnight. There was some localized swelling in the joint, but not terrible. He went to the vet that day, was x-rayed and ruled out any fracture. The vet figured it was a soft tissue injury and he was given Rimadyl for 10 days. He recovered well without issue.
On the following Friday, the day after the Rimadyl stopped, he went three-legged lame again overnight. The vet refilled my Rimadyl for another 10 days and gave him cephalexin just in case there was an infection.
On Sunday (a week ago yesterday) we woke up to swelling in his left lymph node. During the day, it grew fairly quickly and looked like this by Sunday night:
We went to the vet a week ago yesterday. I told the vet about the bite/sting from earlier, and she figured it may be a reaction to the sting. Since he was already on cephalexin, she added Baytril and we left.
By Thursday, both lymph nodes were the size of golf balls, if not larger, and were hard masses. There was significant swelling, almost like both lymph nodes were touching. Ignore the Instagram filter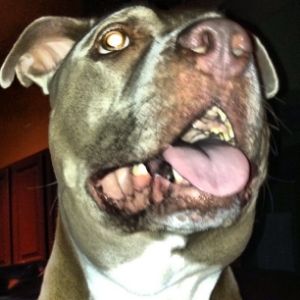 We went back to the vet first thing Friday. She did a CBC and aspirated the masses. The CBC was not good: 21% pack cell volume, 20,000 platelets, 27 WBC, 3 RBC. She determined that something was going on systemically to cause IMHA (immune-mediated hemolytic anemia) and ITP (immune-mediated thrombocytopenia). She took him off the rimadyl and cephalexin and put him on 200 mg doxycyclin twice daily and 40 mg prednisone twice daily.
This Saturday, his gums turned grey in the afternoon and we went to the emergency vet. The CBC there was slightly different. Same pack cell volume, but the platelets had tripled in a little over 24 hours, which was good. The bad news was that the WBC had tripled as well, putting it at 54 (should be between 6-17). His monocyte levels were insane too at a 4.9 (should be between .3-1.5).
We have another CBC tomorrow afternoon. I'm hoping for lower WBC and a higher pack cell volume. Mostly, I wanted to post to get some feedback about these two diseases. What can I expect, what have you experienced, what can I do? I also wanted to see what some of the vets on here thought about the diagnosis and whether any or all of these events within the last month could be related. Is it possible to have IMHA and ITP as the primary concern, and not a secondary reaction to something, like a cancer or infection? Any/all advice is welcome and appreciated - thank you!