As some know I live with my parents. I moved back in after my ex and I split and while I have been here their health has been in and out and in trade for a free rent for the pups and I, I clean(they are piggys) cook and keep my mom company.. not a bad gig really.. Specially since they still let me foster/board dogs as long as I am the primary caregiver and I pay for their food and medical.
Well my dad doesnt always listen, or listen well, I told him Lulabell is cat aggressive and just like when Arnold came in the picture the cat room (their master bedroom) MUST be closed at all times.
My dad thought he could out run the dog or something. Opened the door and lulabell flew in and attacked ally. Long story short I had to choke Lulabell out to open her jaws, meanwhile though Ally was flailing and attacking anything she could, rightfully so I guess.
Ally bit my dad once and me twice. Immediately my right hand (dominant of course) ballooned up. I put the dog on a tether in the yard and not finding any punctures on the cat I left her in the bedroom.
I went to school and iced my hand but on the way home I swung by the doctor just incase. They flipped, gave me a tetanis shot and antibiotics, even if its your cat and shes inside and vaccinated cats are dirty beasts I suppose.
I get home from that and Ally is walking funny, well she doesnt want to walk at all but if you stand her she will hobble.
OK my vet was awesome enough to squeeze me in before they close, sitting in the waiting room a woman tells me she's spend 4300+ on her shar pei including bowel obstruction surgery and repeatedly treatments to attempt to start up and normalize his poo.. I almost died at that cost
The vet finally sees Ally and he actually.. looked like a novice :-x.. shuddered and got the wimpys or whatever got grossed out feeling allys ankles he said they popped a LOT and he thought they both may be broken. GREAT wtf do you do for a 14 yo obese cat with two broken legs!?
I wait while they struggle to xray her.. those xrays are costly mind you.. finally he comes in, one of her long foot bones (top of you hand the bones connecting knuckles to the wrist) is broken but the bigger concern was the inflamed arthritus I guess the bones should be greyish on an xray and her ankles were white with bone density or something?
Anyway he shaves her leg, cleans the 3 tiny punctures he finds and tells me he wants to splint her. Well.. splinting is 250 bucks cause he has to put her under, place it and several days/weeks later replace it. The bone will heal the way it is and she's already so sore and fat that we're not sure a splint will even benefit her so i opt out of it.
Still without the splint I walk away with 80 each for the leg xrays, 120 for the body xray... a shot of pain killer to last 5 days, antibiotics and clean up fee ending in 400 something dollars.
Damn dog
Damn cat
damn dad
ugh no one blames the dog, cat, and my dad was just making a mistake but now everyones a mess! sigh
And to top it off I am pretty sure the little bisnatch is in heat.
The culprit (pathetic looking foster in front)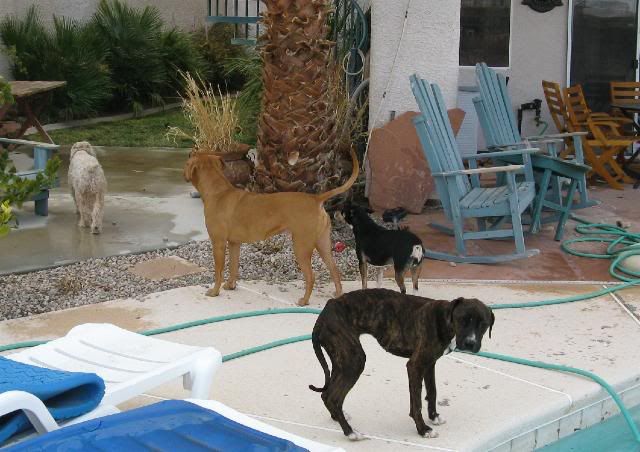 The victim...(not including humans)