CopperTop needs a home.
CopperTop is a pitty mix that needs a caring home fast.
She was born on June 23 2004 and was chained up outside since July 2004.
You can imagine the life this dog has had.
It was turned over to the rescue a few weeks ago , but was surrerended to a neighbor lady of the dogs home and she didnt get signatures..long story short..they called and demanded the dog back (oh and a dog house) but they wouldnt sign her over and we had to give her back (oh no dog house either..gez.. but was going to have animal control check up on them)...
well they wanted a new start with the dog..
So they did.
We waited..expecting dog back... and as just the day a few of us discussed that the dog was gone for good, the call came.
COME GET HER.
So here she is.
You might expect a pitbull mix dog that was chained up for all that time to be crazy and possibly aggressive.
Why she is fearful at first, two minutes into a greeting she is the sweetest little dog.
SHE NEEDS A HOME.
I volunteer for a group that does the adoptions and care for an ALL kill shelter. The worry is that all of the fosters are FULL. Pitbull mixes are HARD to adopt out, sweet and small as she is, she is still a pittie mix.
Other dogs of good manners and easily adopted are going to be euthanized as we take the time to show Copper the world.
Choices are going to have to be made.. who lives and who dies.
She needs a home..fast.. She is at my house again now, but I am overloaded with dogs and have her in a crate in the kitchen which is not the best place for her.
Her behaviour is a bit needy but loveable. She does meet new situations with fear and wants to bolt, but two minutes into it she is fine and loveable. She was doing great in the crate last time she was here, but the kitchen even tho I have the crate covered she is wimpering and crying for she can hear all the comontion in this house . She is pretty good about potty training but does tend to "leak" tiny amounts of urine on occassion of over excitablity or trying to get her to the door in time.
She does need someone able to teach and train a pitty mix from ground up. Remember this was a PUPPY chained up. She needs someone to introduce each new thing slowly and properly.
I see in time a very sweet loving playful dog...if given the proper training and oppurtunities.
The lady who owned her is still sticking with she is a pitbull german shepard. hummmm.. dunno bout that. She has a sweet lil face and is only about 35 pounds. I dont think she will get much bigger...one thing I can say is whoever had her fed her well. So at least she wasnt starved, just neglected and ignored.
There is a fire under her adoption...She needs a home FAST.
She according to the owner is up to date on shots but had no proof and her vet was in Missouri was the only information I could get from her..no name..no number..nada.
She is yet to be spayed. I did de worm her last she was here a few weeks ago. But held off taking her to vet in fear that we would loose her. Which we did..but she is back for good now. There is a fee thru Life Line for Pound Buddies for her adoption.
IF INTERESTED IN THIS DOG PLEASE FILL OUT AN ONLINE APPLICATION-REFERENCES WILL BE CHECKED so please fill out proper numbers and information.
http://www.geocities.com/poundbuddies/POUNDBUDDIES_APPLICATION.html?1050489419860/
Our Main Site for Pound Buddies is here to learn more about us.
http://www.petfinder.org/shelters/MI185.html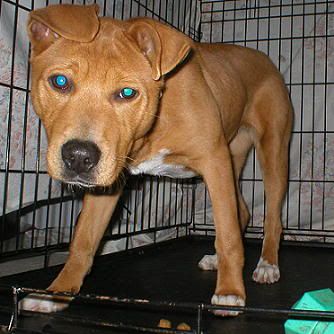 I will have to get some better pictures of her, but that is what I have stored for now ..
Of course any questions can be addressed to me thru here or PM or you can request my Email thru a PM if you are really interested. I would prefer Michigan adoption..but with GOOD references might be able to go to near states.