I just got word that I'll have to move at the beginning of the year unless I want to share living space with my mother & husband #4, which I'm just not prepared to do unless I have to.
So, I'm trying to place as many fosters as possible by the end of the year. Up for grabs are: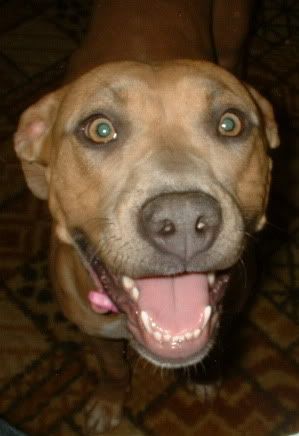 TAFFY
http://www.petfinder.com/petnote/displa ... d=12218388
A Merced shelter rescue, she is just as sweet as her name and lives to please people. She plays a little rudely with other dogs, so she would be best matched with an easygoing male who won't take her play personally. She had almost no manners when I got her, so she was most likely a yard ornament. She is a knockout blue fawn, about 1-2yrs old, and nicely sized at 40lbs. Taffy is solid muscle right now, so it would be nice to have her go to someone interested in keeping her in condition. She does okay being crated, does well with the other dogs and tries to play with the cats. Right now, she has only mastered "sit," but she starts group classes next week.
SUGAR
http://www.petfinder.com/petnote/displa ... d=12218387
Sugar was originally adopted from the Sacramento city shelter and allegedly was leash reactive, resource guarding and had poor impulse control (whatever that means). I've had her 3 weeks now, and I haven't seen anything more alarming than a typical herding mix personality. Sugar is very active and gets bored easily. She is tenacious about things she wants to do (mainly playing with Taffy, which is a no-no inside), and has had to learn she gets what I want her to have when I want her to have it. In spite of the portrait the former owner's friend painted, Sugar is actually a submissive dog to people and needs an owner who will use positive reinforcement training and will not try to dominate her. She already knows sit, down, shake, and stand, and only needed a refresher course in leash manners. I would love to see her to go an agility or obedience minded owner. Great with cats, and would do well with an equally energetic dog to help her burn some of that energy.
BARNEY
http://www.petfinder.com/petnote/displa ... d=12265939
Barney isn't quite ready for adoption, but since he will be the hardest to place, he needs all the publicity he can get. He is another Merced dog who came to me at 64.6# and was at least 10# underweight. He is now at 70# and still gaining. He is a sweet sweet old man, but I'm torn between teaching him to do things my way and just finding him a home that will let him be himself for his remaining years. Barney is 8-9yrs old at least and appears to be boxer/lab. UCD will be taking him 12/1 to evaluate a mass on his throat and do surgery if it turns out to be a lipoma. I have him on glucosamine/chondroitin daily and he seems to have minimal mobility issues. I make him wear a Halti so he won't pull my arms off and in return he gets to pee on about half the things he wants to. He doesn't mind other dogs in the house, but he will snap at them if they get too close to his treats/food/person. We've had several discussions about that, and Barney is getting better about sharing attention and treats are just not distributed in a group setting. He CANNOT go to a home with cats, though. So far he has tried to chase several of the cats here, and I'm not willing to find out what happens when he catches them. Miraculously, Barney only threatened to hike his leg in the house once, and not since.