I received Lucy today, one of our wonderful members drove her up to me.
She was seized in a drug raid. She was kenneled with 6 other dogs, 4 were already dead from starvation. A 5th died while they were there saving them, the 6th died in a woman's arms at the vets office. The vet was told to euth Lucy but he wouldn't do it. He helped her make it thru the night and when they knew she would survive she was turned over to the shelter. But the shelter didn't want to wait for her to get better, they wanted to go ahead and put her down. A girl at the shelter begged for her life and made some phone calls, now she's here with me.
She's not healthy enough for her spay yet so we've got a spot scheduled for Feb 8th. She'll be able to go to a new forever home after that. She'll be up to date on her shots and wormings, and she'll be spayed and receive her rabies vacs on the 8th.
She's so so sweet, a little timid at first but who can blame her. She gets along with all the dogs and the cat. She likes my daughter but she's a little frightened just yet by her quick movements. I think she'll work her way out of that pretty quick.
Another thing is her size, she is so tiny. A very very small little girl, she makes all my dogs look like giants. I bet she maxes out at 35 pounds once she's better, and that's if I get her fat. It took some convincing to get her to hop up on the sofa. Once she knew it was okay she got comfy.
Okay, enough about her.
Her adoption fee is $75, covers all of her vet care and spay.
Contact me for an adoption application.
Rebecca
bonarrow92 @ Hotmail.com
434-384-1479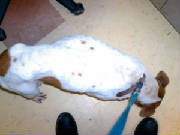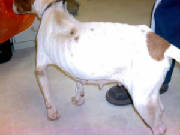 Rescues
[/url]