Here's the original e-mail I sent to a few rescue folks I know...
I was just informed today about an older puppy that has been living outside on a tie out. Apparently she stays tied out on a rope all day/night, and has an Igloo dog house but no type of bedding in it. The yard she lives in is primarily dirt, so they said she's always filthy and the rope she's tied out on is really gross. She gets no human interaction, but my friend said she's really sweet. Apparently she just sits outside and barks all day because she never gets any attention. They don't think she's ever had a bath because her coat is really gross feeling, but she's all white with brown patches. She has one blue eye, and one brown eye. They said she's bigger then Pearl, but smaller then Sativa and will probably end up being around Sativa's size when she's older (45-50lbs). The owners older brother (owner is a 15 year old girl) is willing to let the dog go to a better situation because he hates to see the dog like that... I guess he's snuck her into the basement a few times, which is apparently just a cement basement, and again... no bedding of any type and just as cold as outside. They aren't sure how old she is, but she's definitely under a year, just not a little puppy anymore- they guessed around 8 months. Her name is Cookie.

Any ideas? Any thoughts? No idea how she is with other dogs, but they said she's a real mush with people... she's very desperate for attention and they said she will probably need a lot of work as far as manners go. They can't take her, but they can get her.

I'm really not in a position to take on something like this right now but, seeing as it just snowed, and we're in for a couple months of rain.... I really wanna get her some help if I can
And here is an e-mail I sent out today...
Well, my friends went to see her again yesterday and sent me a pic (attached). When she called to see if I had gotten the pic she said the puppy has gotten much worse and said "she doesn't have a collar, but the rope that's tied around her neck is really tight and the skin is red and raw" I told her that's an embedded collar (rope, whatever) and to at least see if she could loosen the rope.

PLEASE let me know if you guys come up with any ideas. My friend said the guy will give her the puppy but that does no good if I don't have anywhere to take her. At this point, she'd be better off in a shelter even if it means a death sentance for her.

Please let me know if anyone can think of any options!!
I guess the only reason the "owner" (15 year old girl) is going to give her up is because I told my friends to tell her that I was going to call the authorities for the conditions they are keeping her in. If nothing else, I really might just go pick her up and drop her off at a shelter.... Thought I'd see if anyone has any ideas here before I do that because Tacoma does not adopt out Pit Bulls, she would be PTS. Education is NOT an option for these people. They don't care. Period.
COOKIE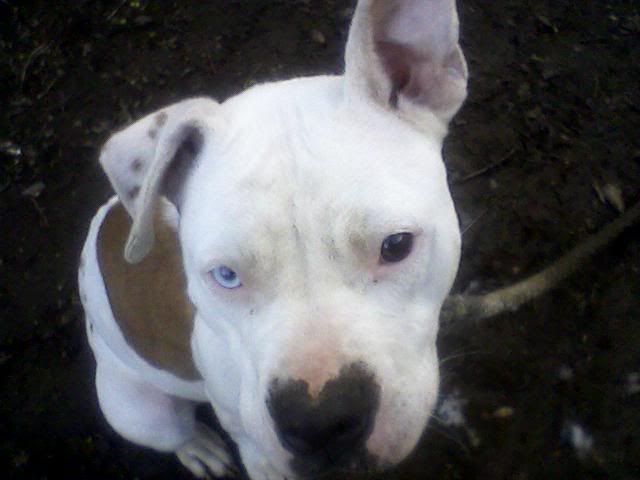 I could hold on to her for a few days at most. If anyone has ANY options. Please help get this girl out of this situation.