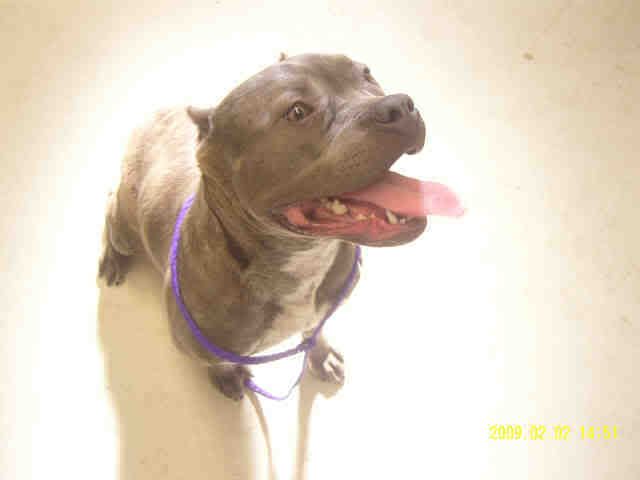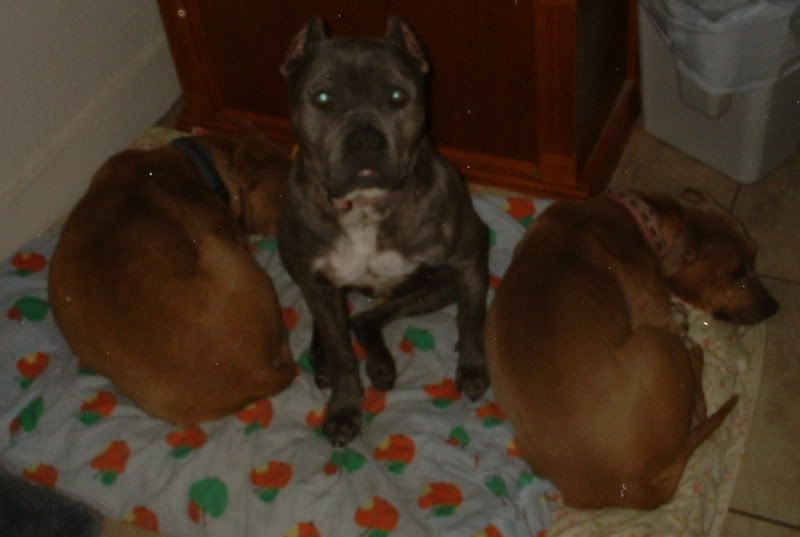 (I vow to try to get better pictures when my friend comes over Thursday to lend an extra pair of hands...
)
BILLIE is a 1-2yr FS blue brindle APBT (UKC style) rescued from euthanasia at the Merced shelter. Doggy in attitude as well as looks, she is your typical dorky, happy musclehead male in a female body. Her biggest issue is chewing: if it will fit in her mouth, she will give it a try, so crating is a must when she is unsupervised.
Billie just finished her first round of basic obedience. We will go back if she's not placed by the 2nd week in April. Budget allowing, I'm hoping to go for her CGC on 4/19. She does very well on walks, except that thanks to her cropped ears and tank-like everyone she wants to say hi to (in my neighborhood) is scared of her.
She is fostered with 2 other female dogs, but I would prefer to see her matched with a male dog if any. She is good with cats and has shown very little interest in squirrels/birds in the yard. She knows how to fetch and really just wants to be with people all the time.
She snores like a bandsaw and, although she is not terribly athletic, she has a fair amount of energy that will require physical & mental outlets. Billie is low-drive enough to be a good match for an inexperienced owner willing to do pit bull research or a breeze for a bully-savvy home.
She came in to the shelter recently spayed and is now dewormed, microchipped, heartworm tested & on flea control.
A video for those with the bandwidth: