On Sunday, April 19, a small red pit bull was seen just after being hit or grazed by a car on the corner of Liberty and Wards Chapel Roads in Baltimore MD. It took nearly an hour to chase her down, but she was taken to a vet and treated for relatively minor wounds.
Everyone who met her said she was super sweet, and had the cutest little butt wiggle (did I mention she was a pit bull?) and the vet techs all fell in love with her. Because of where she was found, they've been calling her "Chapel". She's a little odd looking - a little bit short and long, and has bowed legs such as I've commonly seen on basset hounds, so she might be a mix, or maybe a "pure" BYB, since the legs also look a little English Bulldoggy.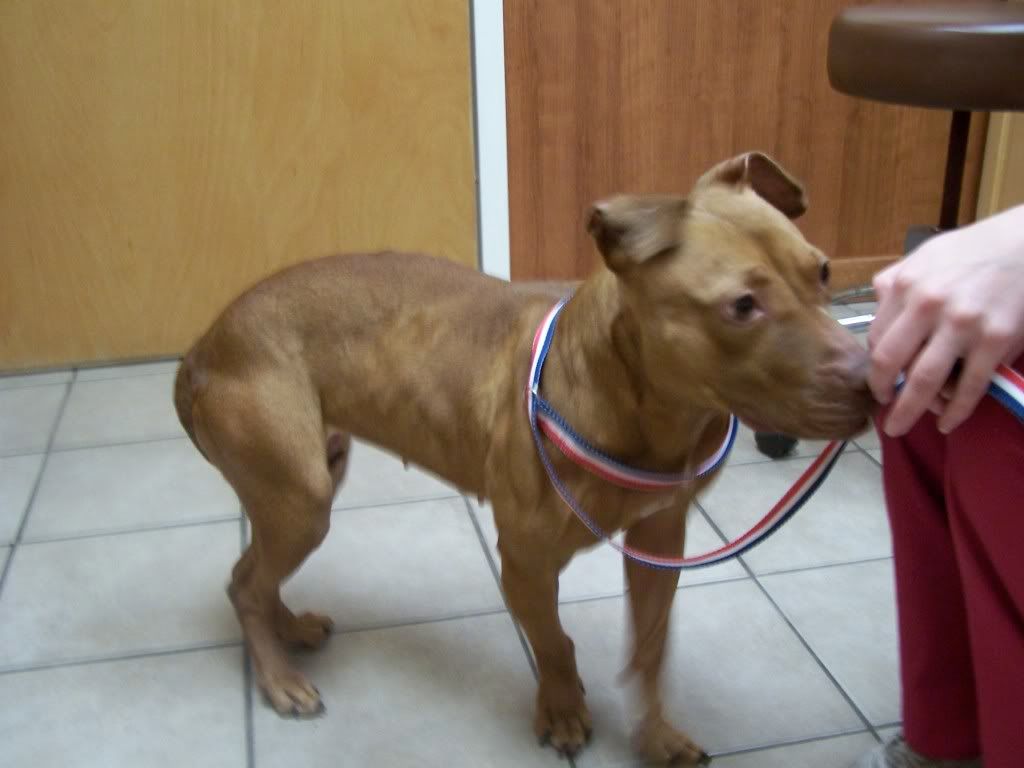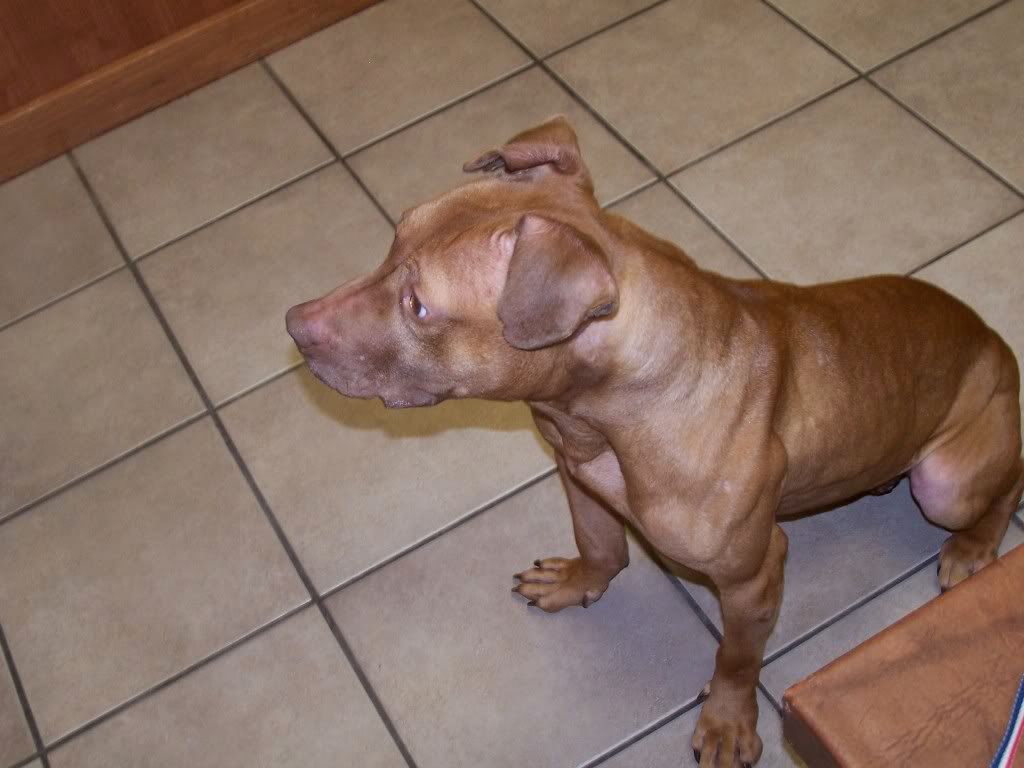 She's has one tattered ear, the other is missing an inch or so off the end, scar marks on her muzzle, some of which were stitched back together by an amateur (according to the vet who examined her), legs, and tail (the tail looks like possibly flea or happy tail issues) but is in otherwise good condition - very nice muscle tone and a nice weight at almost exactly 40 pounds.
I spent about half an hour with her today, and by the time I had to leave she was so attached to me they literally had to drag her out of the room. She's very loving and kind, a very gentle mouth (I hand fed her a lot of treats and anytime teeth touched skin she backed off a lot) and is calm (although of course her energy level may change when she's in a permanent home)
Most surprising was that I suspect she's deaf - I asked the vet to test her, and we'll see what the results are. She didn't react to any sounds in the room unless there was movement with them, but she reacted to changes in the air conditioning (which has a vibration) or very loud sounds of things in the hall that also put off vibrations. When she was looking at me, she was so glued to me it was
very
hard to get pictures of her because she just wanted to be so close to me!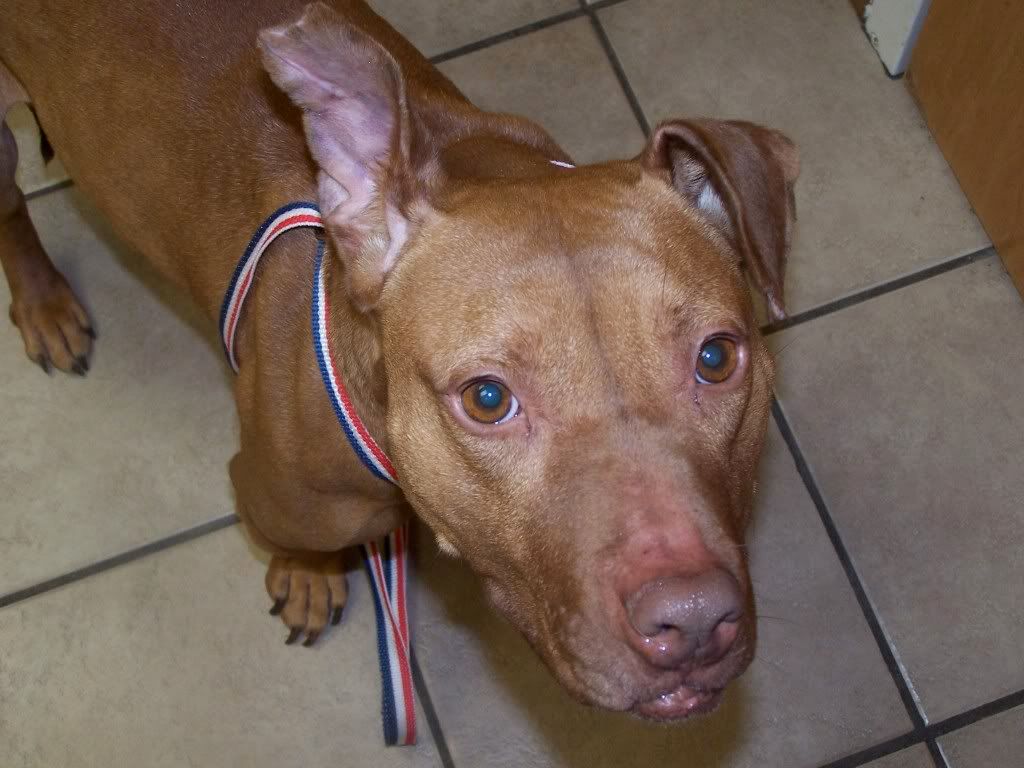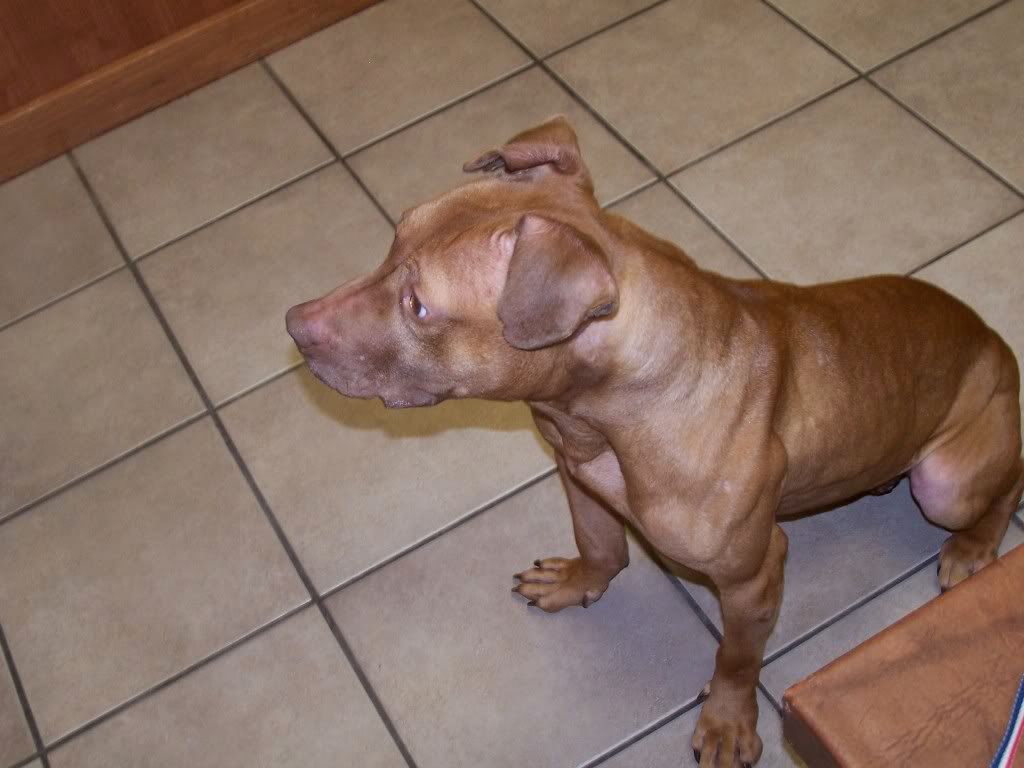 She was also tested with the office cat, a mellow boy to whom she had no reaction. She even let him sniff her lips while taking a treat from me, and she wasn't a fan of that, but didn't even go so far as to lift a lip at him, just a slight eye roll.
I've already fallen pretty madly in love with her, so she needs a very special home! Contact me if you have any interest.