Hello everybody!
For those of you who don't know, I volunteer for the Sula Foundation here in New Olreans. We are a local nonprofit organization fostering responsible pit bull ownership through low cost veterinary clinics, education and advocacy.
http://www.sulafoundation.org
I'm going to start posting our adoptable dogs and maybe, just maybe you'll fall in love.
MEET LUNA!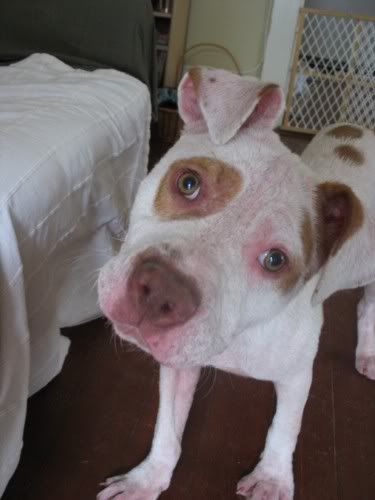 This wonderful little girl was taken into the LA-SPCA with a severe case of mange (non-contagious), to the point where she was hairless. She was evidence in a cruelty case, where it was decided that she was not going to be returned to her former owner. The Sula Foundation took her in to give her a better chance of finding her forever home. Luna is SUPER social, very sweet, very people oriented and about 7-8 months old. When she greets people, she is what we would call a "wiggle-butt", wagging half her body at people. As you can see, she is recovering nicely from the case of mange. Once she is well, she will be spayed and on her way to finding a forever home!
Here she is learning how to play with her foster brother Monty:
http://www.youtube.com/watch?v=PzGSP9cbEFc
Are you in love yet?