http://pnwpbr.rescuegroups.org/animals/ ... lID=486314
Our poor Rocky has fallen on hard times. He was adopted out as a puppy in 2007. He had a great life - lived with a couple of kids and was well loved. I guess his adopters loved him so much that they decided they wanted another dog. They bought a male pit bull off craigslist, and after a short time the two boys did not get along. They started crating Rock which is something they never did after adopting him, also putting him outdoors alone, making him feel less like a family member as they clearly chose favorites with this new dog. He became extremely anxious in his new confinement, and broke out. Even broke out of the yard on a couple of occasions and was picked up by animal control. His family had clearly fallen out of love with him. Thankfully, they posted about their 'problems' on their Facebook, and PNWPBR found out. After some discussions, Rock was returned back to us.
Our big man is such a fantastic dog! He has an excellent, very solid temperament. Great with all people, loves children especially. Does well with female dogs. He is smart, and has some training. His former adopters are both deaf and he learned a number of commands in ASL.
The problem is that we do not currently have any foster homes who can dedicate the one on one time Rock needs, OUTSIDE of a crate. He has broken out of a few crates already. Poor guy gets so anxious in them. His foster home has him on anti anxiety medication and is trying to desensitize him to the crate, but with work hours and other foster dogs, they just are not able to address his issues correctly and he just is not happy and not thriving.
What Rock needs is an adopter who is looking for a companion to keep them company. I can completely see him living the good life with a retired couple who like to have the grandkids over. Please spread the word about our boy. I know there is a family out there who deserves all the joy he will give them.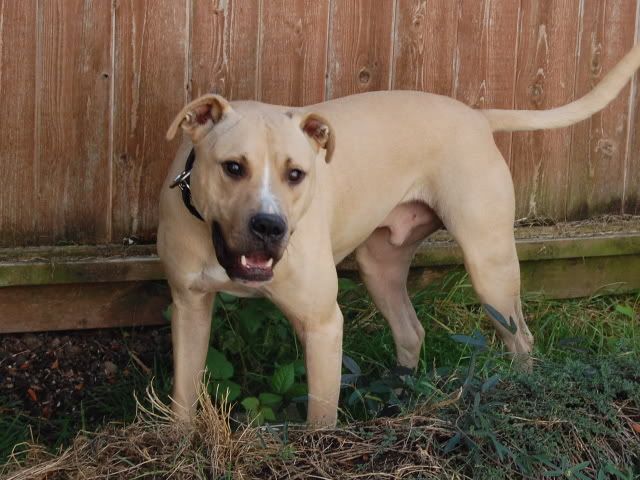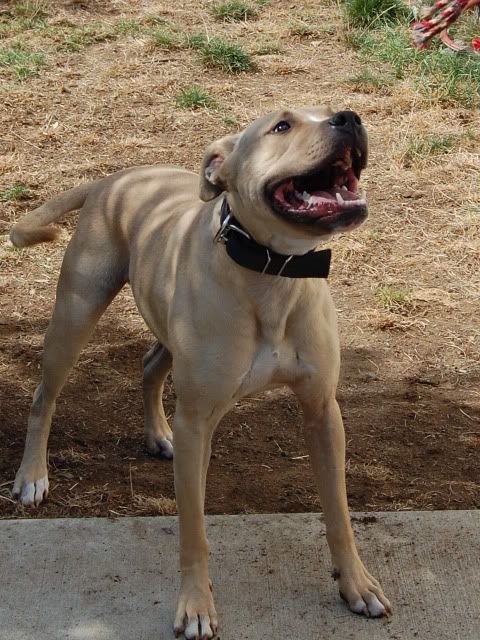 And our little man from puppyhood, being held by Ellena