What a shame if this girl loses her life after fighting so hard to endure a year in the shelter. I would pull her in a second if I could. Please crosspost!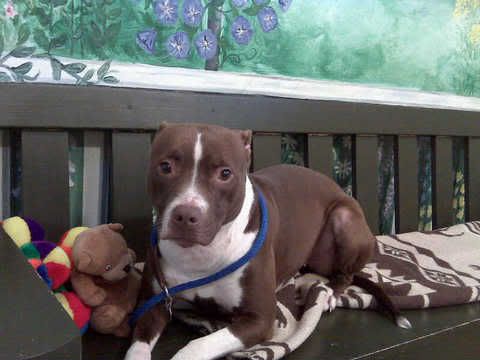 Things don't always work out the way we had hoped they would and this holds
true for Babylove, a year long resident of the York County SPCA. This sweet
girl was suppose to go to rescue but through no fault of her own the rescue
backed out at the last minute. Babylove has been patiently waiting for a
place to call her own but she has had no such luck. For the duration of her
stay she has managed to endure the stress of the kennel environment, all the
while excelling at obedience and earning her Canine Good Citizen Title. She
loves other dogs and plays enthusiastically willing them to chase her around
while a treasured toy or stuffed animal dangles from her mouth invitingly.
Unfortunately, Babylove is beginning to deteriorate from the months she has
spent kenneled. She shows no aggression however she has anxiety when being
returned to her kennel after a walk, attempting to bolt out of the cage when
trying to shut the door. Babylove is on borrowed time and we are desperate
to find her a place to go. PLEASE, if you can help, she and we, would be so
very appreciative!
Thank you,
Lisa Belsinger
Rescue Coordinator
York County SPCA
717-718-3109
lbelsinger@ycspca.org
from the sounds of it she would be a fantastic obedience dog... I really hope someone can find her a home!