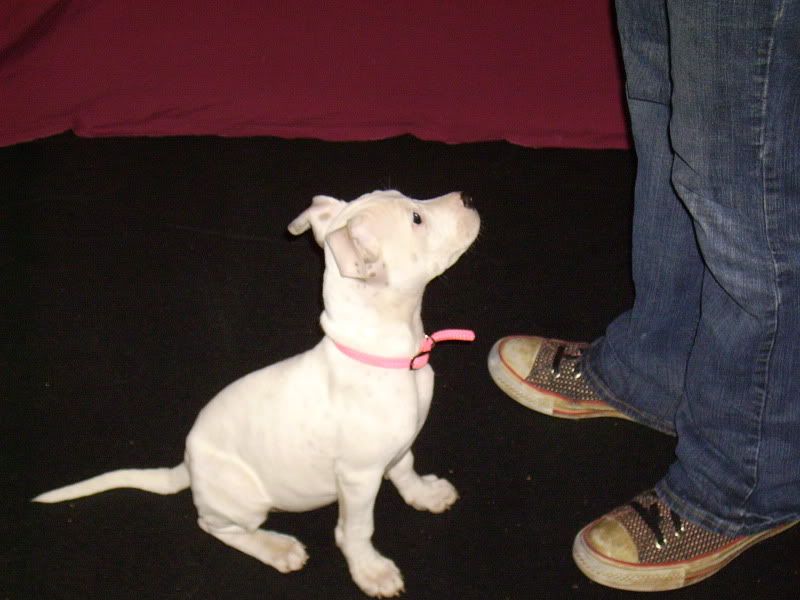 Meet Snickers. She's a 10 week old, deaf, (we think) pit bull mix puppy who's currently with DRAW rescue. I've had the pleasure of getting to know this little firecracker the past few weeks, and lemme tell ya, she is quite the character. She's already mastered "sit", "shake", and "spin" and was starting to get the concept of "down" this past weekend. In other words, she's a quick learner! Her hearing impairment most certainly does not slow her down one bit! She's a wild child, but has amazing focus and I don't doubt that she'd make a great sports dog once she grows up. She is FULL of attitude and appears to be under the impression that she is the hottest thing since sliced bread (which, hey, ya gotta admit she is darn cute!).
She's probably not the best prospect for a brand new, first time owner as she is quite a handful, unless they're someone who's willing to put in the time and have the commitment it takes to train and raise a very energetic puppy who is deaf (and if she gets adopted out in the Seattle area, she's got a trainer who's already well aquianted with her
). She's dog friendly, cat friendly, and kid friendly. She'll be ready for adoption once she's spayed - if anyone is interested in her, contact DRAW rescue to fill out an application!