This is Charlie, hes one of those dogs who stand out in a crowd, simply because of his size. He is shorter than Dakota but weighs at least 90lbs. Although he is full of excitement and energy he never once jumped on the room of 6 people, he tested out good with kids, hes just big. He caught on quick when learning his patience on the leash but his only real downside to me is he pulls like a freight train, no leash manners. (or he was taught to pull so he would look tough, I've known people who did that).
I am told he has dog aggressive but I didn't see any real evidence of that, just frustration and excitement.
Big boy loves to play with a tennis ball, and is very respectful.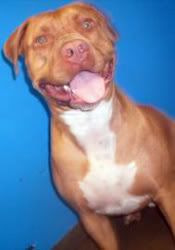 http://www.petfinder.com/petdetail/17235792