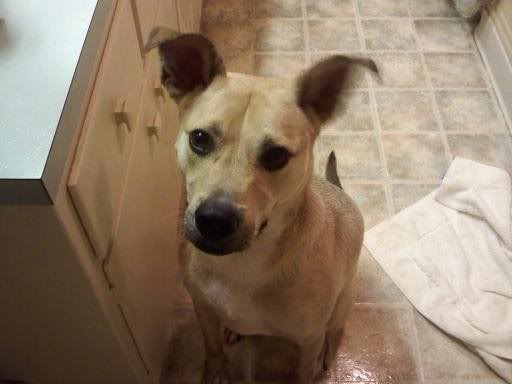 This is not my dog but my best friends dog. He is 5 years old.
My friend had to move out of the house to New Jersey in a complex that does not allow pets and he left his dog Rocky home with his mom. Since he left 2 weeks ago the dog's temperment has changed and he started growling occasionally at his mom. He nipped at her hand while she went to brush his snout and it lead her to take him to a local shelter. They have scheduled to put him down on Sunday if no one can help.
I have three dogs of my own or else I would take him in. I have no time or resources to take in another dog. From my experience with him, he is very friendly but is also very energetic. He has never been aggressive towards me or anyone I know besides this one incedent. I do believe that with some extra time and work he would be fine but it seems my friend's mom does not want to take that on and has washed her hands of the situation without looking into finding a home. I have had my girlfriend go to my friend's house on numerous occasions to feed and let him out with no problems.... in fact she is distraut over the whole situation, as am I, because he really is a good dog, he just needs someone who will give him attention and discipline.
PLEASE, IF ANYONE IN THE LONG ISLAND OR NEW YORK AREA CAN HELP IT WOULD BE GREATLY APPRECIATED. I AM WILLING TO TAKE HIM TO MEET IN A NEUTRAL PLACE TO SAVE THIS DOG. THE INFORMATION BELOW IS WHERE HE IS RIGHT NOW.
Huntington Shelter and Adoption Center
106 Deposit Rd
East Northport, NY 11731
Phone: 631 754-8722
Email:
tohhas@yahoo.com
I can be reached by email at
aj.santomauro@gmail.com