This is Benny!! He is a 3-year-old pit bull mix available for adoption through Just a Dog rescue in San Diego.
http://www.justadog.org/home_page.html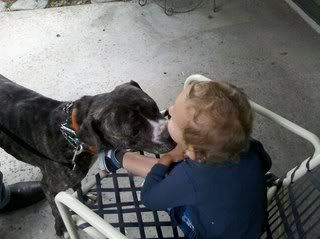 He is a "special needs" dog - he has a rare birth defect where his knee caps are on the inside of his legs, opposed to the normal location and the femur head is facing the opposite direction. We checked into surgery options, but the only thing available borders on mad scientist stuff. He will get arthritis at an early age and will need pain maintenance for the rest of his life. He looks like he's squeezing his butt cheeks when he walks and he runs like a bunny. Because of the defect he is also predisposed to ACL tears, so he needs to be kept from doing too much jumping around. Good luck with that though because he's a very happy, bouncy boy. He requires an Adequan shot once a month for pain maintenance and he is on glucosamine. The rescue is going to be getting him into water therapy to build up the muscles in his hind legs.
He is dog social, but will react if another dog snarks at him a little too much. He is not good with cats - especially with reactive ones. He's very people-friendly, loves kids and is very patient with them, although he may be overwhelming with the littler ones.
One warning - he will eat everything that isn't tied down. I mean everything! He likes dirty laundry, bed skirts, towels, kids toys, laundry softener sheets, etc. Although it's easy to forgive such a cute face.