our new foster pup through Born Again Pit Bull Rescue...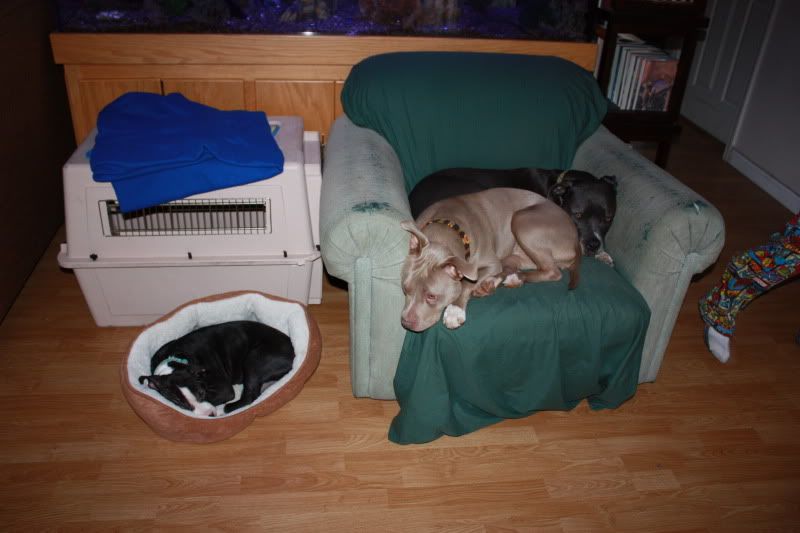 ---
Addicted to PBF
Posts: 4873
Joined: Thu Feb 05, 2009 3:47 pm
Location: Vienna, VA
Contact:
oh my word! soooooo cute! Looks like a love!
---
Moderator
Posts: 5196
Joined: Thu Jan 12, 2006 7:10 pm
Location: Bay Area
Cute! He's so symmetrically marked-- and his legs are so thick!!

Do I spy that pit bull puppy atopy or demodex? I always feel so badly for the poor lil' saps, they are so happy and jolly but so often have such horrendous skin issues that have got to be uncomfortable while growing up.

Thank you for fostering him and taking care of him!!!
---
Adorable! The other dog is too.
---
Addicted to PBF
Posts: 16038
Joined: Fri Dec 09, 2005 1:43 pm
Location: Sitting on a Gold Mine
Lucky little Pickle!!
---
Pit Bull Forum Addict
Posts: 1979
Joined: Sun Jun 08, 2008 11:42 am
Location: Tampa Bay Florida
What about a Cuteness warning!? omg! Squeee!
---
LOL Pickle is a girl, and thick thick thick. Little trainwrecked bully. She is super super affectionate with people, loves them very well socialized but sadly already very DA. She regularly picks fights with Cricket (other dog in picture) granted Cricket is still a pup BUT she is older and should be respected. She gets very aggravated when reprimanded by Zila. She will submit but not without speaking her mind first.
Yeah, poor little thing has demodex. She is quite mess. She is on a raw diet, immune boosters and is on an ivermectin dosing. The vet thinks she will recover in time. We are just trying to avoid staf infection at this point.
---
---
Return to "Rescue Resources & Adoptable Dogs"
Who is online
Users browsing this forum: No registered users and 6 guests