My sister in law contacted me on behalf of her friend this morning about a pit bull that had been dragged behind a vehicle. She is feeding and trying to care for the pit bull to the best of her ability. Her dad said the dog has to be gone by next Friday. She is located in San Antonio but is driving to Houston this weekend so can and will transport him to a Houston rescue.
The dog: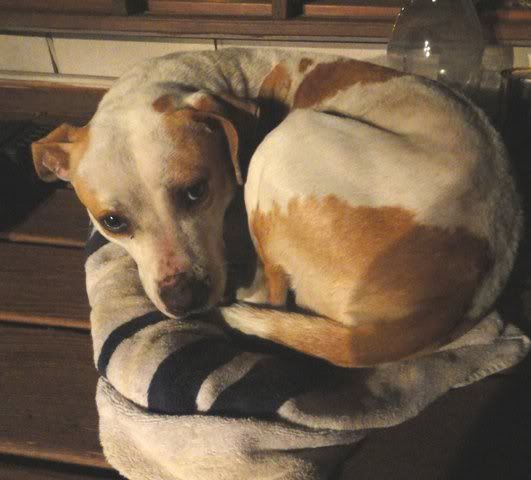 From the rescuer:
He definitely does need to see a vet. He doesn't appear to be sick, but he really got beat up so he has like the engrainment of the dog caollar they dragged him in around his neck. He is very shy, and sumbissive.... I don't think he has an agressive bone in his body, I walked up to him with a piece of bloody red meat to feed him and he just rolled over on his back and didn't touch it until I went back inside although I know he could smell it because I could see his nose twitching. I do not know how good he is with big dogs, but he is just fine small dogs like Chica. He does not bark or jump on people and just stays to himself. He follows directions well. I am going to be driving up to Houston this weekend so if the shelter will take him I can take him up
The dog is very submissive and calm. I haven't heard him bark once in about 4 days. He is very used to being outside and spends the days kind of roaming the back yard and the nights sleeeping on our deck because I think he feels safe there. He has been around little children and just loves to be petted by them, around adults he is more reserved and tends to stay clear of them. He is not agressive at all, even around other dogs. No jumping or barking from him. In fact I took a piece of bloody red meat out to him and he just rolled over. He would need to see a vet because he has alot of knicks and bruises from being dragged on his leash. He is roaming the neighborhood right now but when he comes back to eat I will be sure to take some pics of his wounds for you, none of them are open anymore. Thank you so much. I will be driving to Houston tomorrow, so it would not be a problem to transport him.
I did ask the rescuer to secure him in her yard and she is blocking her deck off so he can't roam anymore. This will keep him safe until we can get him to a rescue or foster!