I thought Alice deserved her own post here.
I'll post updates and stuff here, since new peppy things about her personality pop up everyday.
Alice is a 2 year old American Pit Bull Terrier, female. She is a active girl who loves people, and her flirt pole.
She is very confident when it comes to new things, and curious as well she almost always investigates.
So far she has learned:
Sit
Lay
Stay
Wait
Off
Leave it
Touch
and her name.
She also took to leash walking training very well and walks like a dream most of the time. Sometimes at the beginning of walks she'll get excited and pull slightly. But with consistent stopping when she pulls, she will stop quickly. She is kind of eh about the water, she waded but didn't want to go in farther than her belly and wanted out a few moments after she got in.
She got minizoomies after getting out of the water and pulled a bit, but stopped after continuing to stop when she pulled.
She loooves her flirt pole, and has a stubborn out, which we're working on and she is getting better and better. She enjoys tug, and gets the zoomies sometimes. She is doing pretty well with biking, not scared of the bike at all.
So far only one thing scared her, an old car revving its engine.
I'd love to place her in a sporting home, but an active pet home would be fine too. She is clicker savvy. She is also dog reactive, I am working with her but she needs a home who can understand it and is willing to put the time in to work with her.
Alice also loves to work, whenever I give her a break while training she will sit and stare waiting to be given something to do. She'll offer behaviors as well.
Being an example of a Pit Bull for a group of camp kids:
First day at home: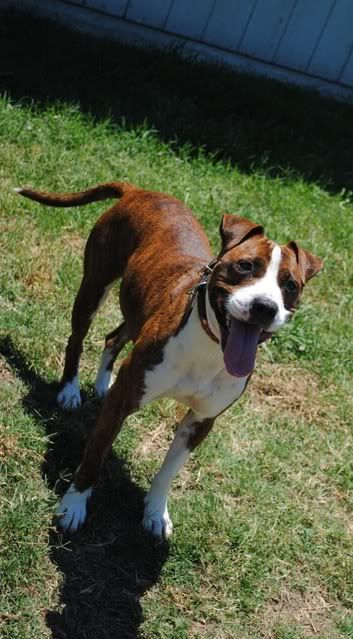 After a week: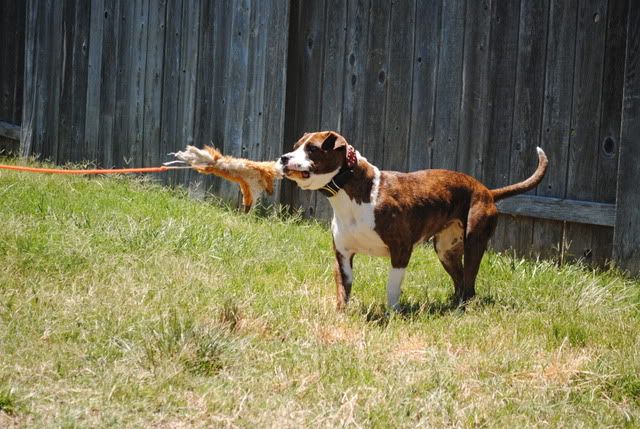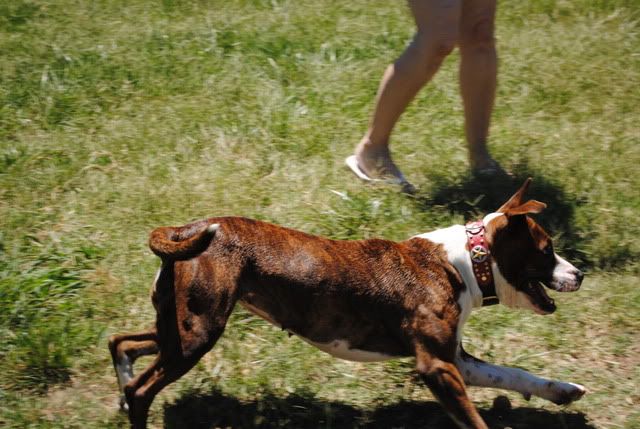 Two Weeks: