The second part of this story doesn't end up with her being dumped
After a very long transport Millie (Phoenix) arrived at my place around 10:00pm very tired.
She zipped around my place and in no time made herself comfy on the sofa, where she was ready to konk out for the night.
After a few snuggles and cookies and a last bathroom break it was time to go to sleep.
This morning it has been pouring rain so we have had to all stay inside.
Phoenix has open blisters on her already swollen paws and her toe nails were a disaster so her tootsies had a nice soak, blisters got some tending too and her nails recieved a much needed manicure.
Then it was playtime she loves to play tug and throw toys up in the air we cuddled on the sofa and had a nice chat about her owner (who Millie forgive's by the way) and then she romped with Murphy!!
Now as her previous owner claimed "millie was highly dog aggro" if this is the case then I am throwing in the towel as I apparently can not determine what dog aggression is
Millie(Phoenix) is the least bit confrontational when it comes to dogs, plays wonderfully and could care less that their are 2 females in the house looking for a chance to do some hair pulling and squaking.
Here are a few pictures I will post more about this gal once I get to know her more so far so good though.
Im so sleepy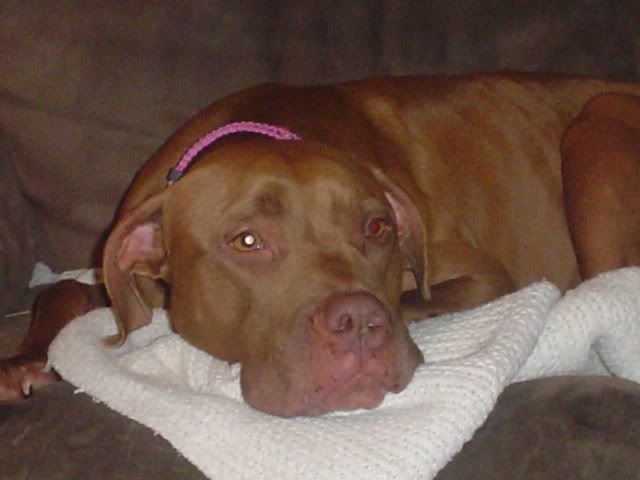 playing with Murphy
tug!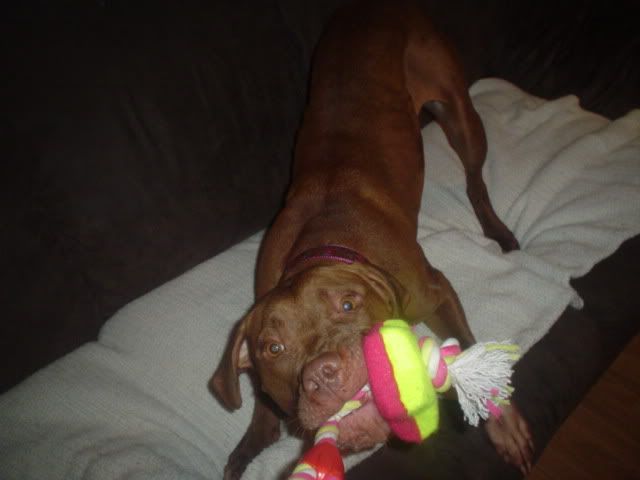 Phoenix wants to thank all the member's of PBF for rooting for her and she promises to live it up in foster care and get back to her heathly self and shine!!
Phoenix would also like to thank her previous owner for being so irresponsible and heartless- because now she "has risen from the dead " and will live life to the fullest in the care of folks who will do right by her something she would not have been able to do is she was still with her previous owner.
V