I took new foster dog pictures today
I took Phoebe in as an emergency temporary foster, when I knew I was going to have surgery in a month or so and wasn't supposed to have any foster. The idea was she'd stay with me only briefly, until another foster person could squeeze her in. But then she just turned out to be such an easy keeper (easier than my own dogs
) that I let her stay. Phoebe is a *nice* dog. She may be RE bred blue merle and a little strange in her conformation, but she has an amazingly nice, stable, happy, gentle temperament. She is one of those dogs you can really take anywhere and show off, and she charms the pants off everyone she meets. Here she is, posing in the grass...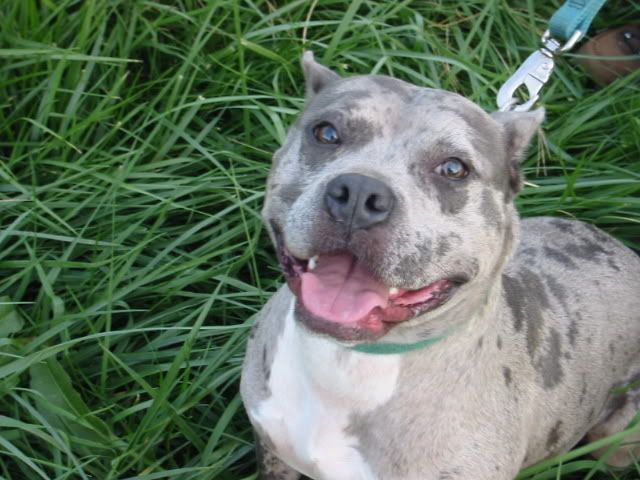 I normally only take in one foster at a time, but Ginger was sitting in a high-kill shelter, rapidly running out of time, and her resemblance to my own pit bull Wilson was too much for me to be able to let her go. She had
exactly
the same sad, pitiful expression in the shelter that Wilson had. She's only been here since this afternoon, but she rode nicely in the car, submitted nicely to her bath, and has been all wags and wiggles and kisses with everyone she's met so far. She has also so far tolerated being crated reasonably well, which is a big deal to me since I always seem to end up with the superpowered 30lb crate-busting dogs.
Anyway, here's Ginger, also posing in the grass.