Here's the pics and information on two sweet dogs I met at the shelter.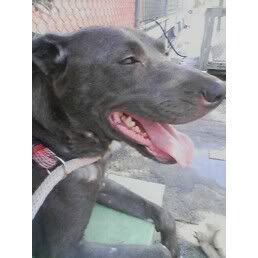 This girl's name is spelled Duthcs, but I think its Dutches. She's really sweet and gentle (put gets really jumpy when you give her a treat
). She knows sit so far for commands. She's a lab mix, I think she's crossed with a blue pit since her fur is that "blue" color with a white spot on her chest and paws. She's really skinny and looks like she just had puppies. I think she deserves to have someone rescue her either through fostering or adoption. I would jump at the chance of taking her but I'm not allowed to have pets.
So feel free in saving this girl from the shelter. I would really appreciate it.
Her ID is A712013. You would need this in getting her.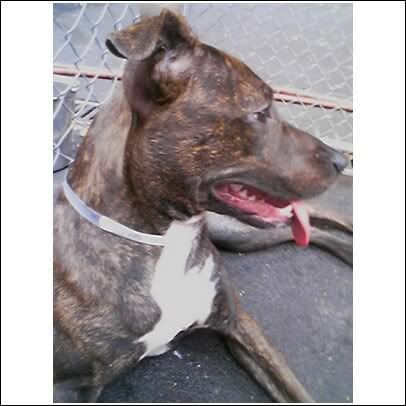 This one is a brindle little girl. She's only like 8 monthes old. She doesn't know any commands, but she's pretty calm and cute.
I believe shes a pit bull, but they have her written down as pit mix...I see no mix, xD. This one doesn't deserve to be in the shelter either. She's way too young to be on death row (assuming they both are sadly).
Her ID is...I wrote down the wrong one. x.x I'll try to get it tomorrow, sorry. We have to get accustomed in getting the dogs ID's so they can be adopted.
You have to contact the Animal Care & Control NYC, not me, to save these girls. I sadly can't hold them but I'd love to see them in a loving home. Here's the link:
http://www.nycacc.org/index.htm
There's an adoption page and when you look under "contact us", theres the address, phone number, etc of the shelters. I'm in the Manhattan one and so are these lovely ladies, xD.
Write down here if you have contact the shelter or planning something. ^.^