Sorry this update hasn't come sooner, I've just not had the time. However, I know lots of folks have been wondering what's been going on with these girls.
The girls are all doing very well. Bree and George are still in foster, and Jolie is in a foster-to-adopt. Bree and George have recently started attending our new Pit Ed classes, where we hope to see Bree develop a bit more confidence (she's more timid than we'd like) and for George to learn to mind her manners and not always be such a loudmouth
George saw our vet Dr. Mann out at Menzies Pet Hospital yesterday, for a general re-check (he wanted to see at least one of the girls back to see how they're doing), and because we had some concerns about some redness in her skin. George has been put on two weeks worth of Clavamox, to knock out a minor residual bacterial skin infection, which probably flared up due to her being in heat recently (huge kudos to Stephanie for putting up with that - yech!). While she's still obviously got Demodex, her fur is coming back, and she's showing a lot of improvement, as are all three girls. George has a couple of mammary lumps. They may be lingering infection, but it's also quite possible that they're mammary tumors, which are very common, particularly in intact females. We're hoping that if they are tumors, they don't change over the next couple of weeks, and we can wait until George's mange clears up before spaying her and removing them. There's a possibility however, that we will need to take those out right away, thus delaying George's recovery from the mange.
To date, the girls' costs, for vet care, medication, shampoos and supplements (not including food) total about $1200. They all still need to be scraped at least twice (need two clear scrapings before they are "cured"), spayed, and vaccinated, and George will likely need those mammary tumours removed, so we're looking at probably another $500 or so in vet costs for these girls.
So far, we've raised about $450-$500 in donations towards the girls' expenses via direct donation and donation through The Lovely Fund. Our most sincere appreciation to everyone who's donated towards these girls' care!
We are so very grateful to Cora, who has generously offered to support the girls through sale of her Care Collars. You can't lose with this offer - get a beautiful, custom, high-quality collar for your pooch, and 100% of the proceeds go towards helping pay for George, Bree, and Jolie's care. You can visit Cora's website at
www.carecollars.com
.
Anyhow, here are what everyone no doubt is wanting - pics!
Bree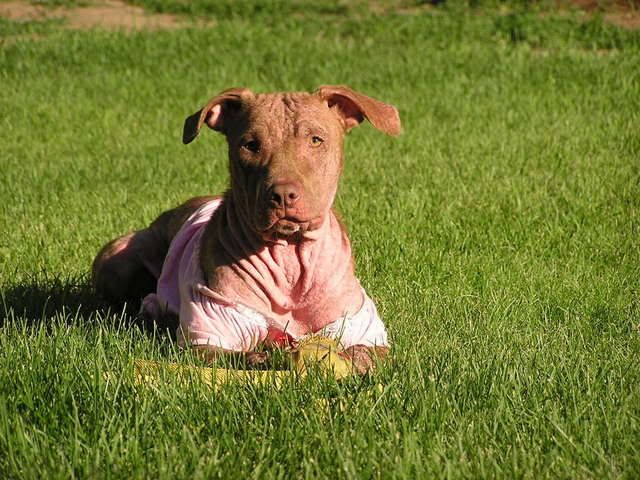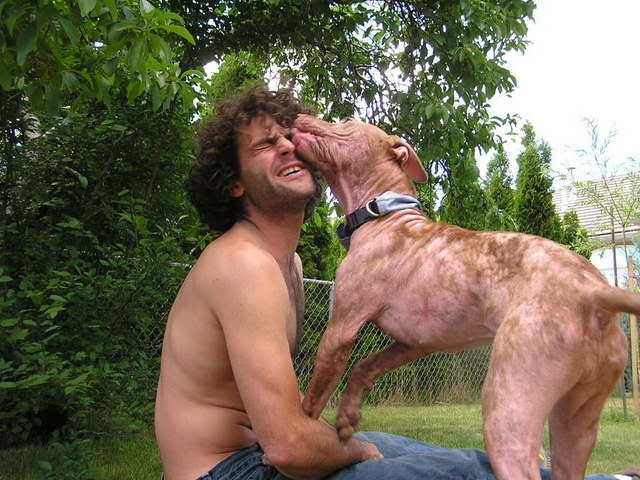 Jolie (I realize I need more pictures of her!)
Gorgeous George, aka "Georgie", in all her homely glory (I freaking love this dog, and I think she's so goofy looking
)