I will give you a bit of history. I live in northeast PA in a county who's shelter does not adopt out pit bulls. Period. For the past 37 years, our "dogcatcher" admitted he "hated" them, didn't trust them, and had shot several. The remainder were taken to the local shelter to die.
Well, he retired. The new ACO has a heart. She contacted me several weeks ago about an incredibly stunning, sweet pit bull who's owner surrendered the dog instead of paying the fine after he had been caught roaming 4 times in 2 weeks. This is Xander, who has been in my home since July 4th.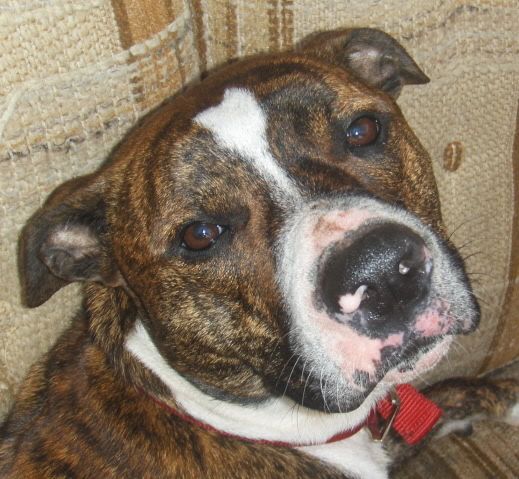 I have recently got the ball rolling on becoming another branch of Bully Paws Pit Bull Patriots out of Fredericksburg, VA. I am doing my own fundraising and hope to save some dogs in my immediate area - they have literally nowhere to go.
Soon after the call about Xander, ACO called again. 2 pit bulls were seized from the basement of a home who's owners had been incarcerated after a big drug bust. They will not be out any time soon. She offered to hold them for as long as she could as I searched for a place for them.
I have not had any luck.
If Xander and/or Remmington, my lab foster, were to be adopted, I could take one or even both into my home through Bully Paws. At the current time I have 3 pitties, 4 greyhounds, and a retriever mix of my own, in addition to the lab foster and Xander, and my 4 young children (8 months to 8 years). There is not a single space left in my small home. I've advertised for foster homes and pleaded for them. ACO has them housed, fed and watered but not much more. I've supplied a bed, toys, and stop to walk them at least once a day. Beyond this, they live in a kennel in a barn with nothing more. This is not what I wanted for these dogs, and not what I was expecting.
If there is a foster home for them, Bully Paws will of course fund their vetting fees. If there is a rescue that has room, I personally will help raise the money towards it. Neither is spayed/neutered, and at this point they are terrified of being apart. Given a nice home and excercise, I'm sure this will improve.
I have walked them, rubbed them all over, taken treats from their mouth, stuck my hand in their food dish, forced them into a kennel that they didn't want to go in, and examined teeth, ears, and feet without a negative response from either.
I've got at maximum 2 weeks. If Xan or Rem get adopted I can take one, maybe both, but if not...
Please crosspost...they are incredibly deserving.
Blaze is the white/red male, Sheba is the black female. She is definitely more spunky and LOVES the water hose.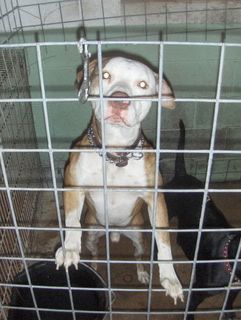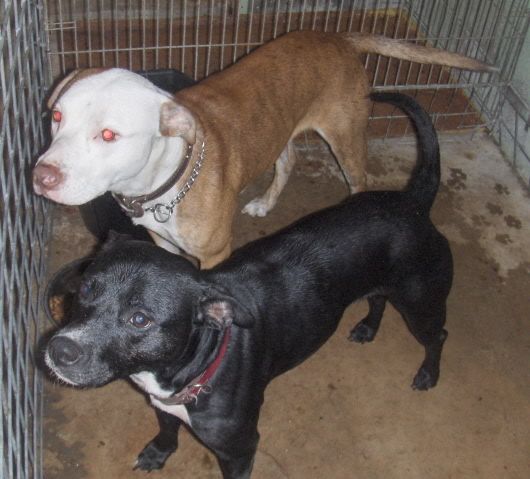 edited to add my email:
shannon.talanca@verizon.net
or call my cell 570-594-3902