Hi! My name's Errol, you may remember me from such photos as:
Or this:
And my finest moment: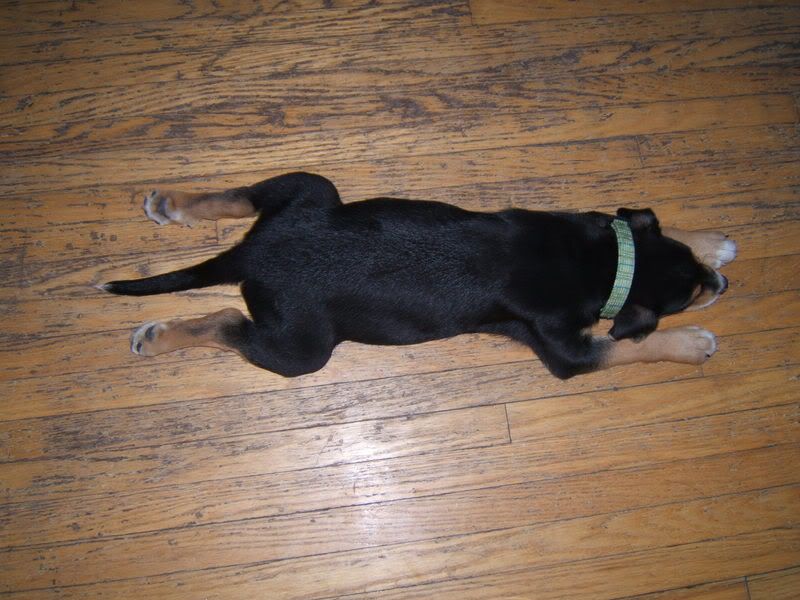 And I'd like to say for the record, Yes, I am that cute! I am currently looking for a home OUTSIDE of Ontario. I enjoy romping in the yard, wrestling with my sister and foster brothers, stealing dog treats and chewing. I dislike well, so far, not really anything! Well, no too fond of baths, but I tolerate them. I am good with cats, I let mom examin me when she needs to. I listen very well and come when called. I do get a little too excited when food or treats are around and it takes me some time to foscus on the fact that mom is saying something (like 'sit'). I am very competitive with my sister and always try to out do her. I am very quiet in my crate unless I need to go out. Sometimes though I tell my mom after I have gone and not before, but we're working on that. I'm getting better at going to the door when I need out, but forget occasionally (usually when I am playing). Mom says I'm a pretty easy keeper, very happy go lucky puppy. All I know is that if I'm not sleeping I'm smiling!!
If interested please contact Bullies In Need:
bullies_in_need@hotmail.com
http://www.bulliesinneed.ca