One week after he was pulled from Sac City AC, Dino is looking less like a hippo and more like a dog! (This is another one that's thanks to caped dog!)
For his "before" pictures, visit
http://www.pitbullforum.com/viewtopic.p ... =dino+city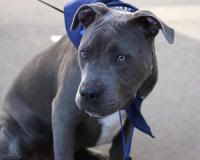 Dino is a 6 month old blue with white/blue nose pit bull. He was surrendered by his owners to a local shelter for euthanasia due to animal aggression, but the shelter staff were so impressed with Dino's loveable personality that they sent out a request for rescue placement. Dino has been fostered since 10/28 with an adult female dog and numerous cats. So far, he has been a perfect gentleman with the cats and a little rude with the other dog. While his obedience and doggy play skills may need polishing, Dino already knows basic commands and house manners. He is very sweet and mellow for his age and would do well in just about any pit bull-savvy home. Potential adopters should have breed experience if only because it was a misunderstanding of dog behavior that got Dino surrendered to a shelter in the first place.
Interested adopters should visit
http://www.yolospca.org
for adoption apps or contact info.