Many of you have already seen a ton of his pics and heard his story. Now he is officially ready for adoption. Cowboy came into the emergency vet as a stray the first part of October. He was painfully thin and looked as if he had been used as a chew toy by one or more other dogs. He had bites on almost every square inch of his body. But his legs were the worst. One of his rear legs in particular had been horribly mauled. And the newest of his injuries was at least a week and a half old. A large laceration on the inside of his leg was badly infected and necrotic. He needed surgery. But he was a stray..so his fate was to be sent to the shelter where he was sure to die. Except the staff at the clinic had fallen in love with him. And I was asked to take him on..repeatedly. All day long. I lasted for six hours of my shift before I agreed to temperament test him. Which he passed with flying colors. I tested him with cats? he loves them. I tested him with dogs, of both sexes and different sizes? He was great with them. I refused to pay for his surgery? So one of the vets donated his surgery and paid the costs..all I had to do was take him home and love him back to health. I gotta tell you..it has been a gift. Cowboy is, bar none, the sweetest dog I have ever met. He is playful and gregarious, outgoing and fun, and an excellent cuddler. He ALSO happens to be VERY well behaved and well trained. Cowboy knows sit, down, walks well on a leash (once he settles down
) speak, shake, high five, gimmee ten. He is crate trained and housebroken. He, so far, has ZERO dog aggression. Even when dogs get in his face. He loves cats but will give chase if they run. He is excellent with people including children, though his lethal tail wag could be rough on little ones.
Cowboy weighs 62 pounds (was 48 when he came to me six weeks ago) is about two years old, neutered, vaccinated and microchipped.
If you think you have the right home for Cowboy, pm for an application or fill one out on PBRC today!
http://pbrc.net/webapp/cgi-bin/dog_deta ... 8c?id=6706
Cowboys before pics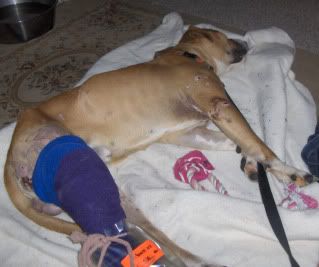 And Cowboy now!