Ok..it's just easier to have one thread so here are our adoptable and available dogs. You can read more about us here
http://www.freewebs.com/drawrescue/index.htm
you can fill out applications here
http://pbrc.net/webapp/cgi-bin/organiza ... b48fe?id=2
read about our Spring/Summer special here
http://www.pitbullforum.com/viewtopic.php?t=94719
Listed in no particular order we have....
**many of our pictures are done by a professional photographer. If you are local and interested in doing a professional sitting for your own dog, send us a pm and we will put you in touch with her**
Sharri
is an adorable, approximately 11 month old youngster who came from a shelter in Oregon. She is dog appropriate in a puppy kinda way and great with all humans. Sharri just oozes puppy cuteness. She is mostly housebroken and crate trained. Learning her basic commands and house manners well. She looks like she is mixed with pointer or soemthing of that nature. Would make an EXCELLENT obedience prospect!! Who can resist this face? **fostered by Petpits**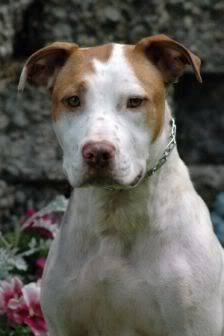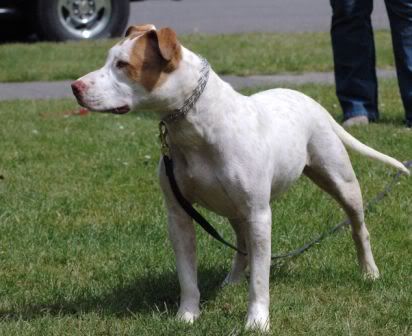 Gordo!!
This big guy was turned over to animal control by his owners because he killed the neighbors cat. My question would be..well..why was he LOOSE or..why was the cat in his yard? Either way, this guys fate was nearly sealed by HUMAN failure. And Gordo's bein' a dog. Fortunately for him, Booker was adopted which freed up a space in Karla's home. The big goofball will be available soon! Please contact KarlaDaune about sponsoring this boy. She could use a touch of help!!**fostered by Karladaune**
Betty Boop the INSTApet
Whatever do we mean by INSTApet, you ask? well..this little doll is the total package. Sweet, well behaved, housebroken, loves to play or loves to cuddle. Walks well on a leash and knows her basic commands. According to her foster Mom, she could have easily passed a Temperament test straight out of the shelter with no training. In fact..she attended a day at the fairgrounds and nothing flustered her. not gun shots, barking dogs, roaring cars..NOTHING! She is completely unflappable. What's more, she loves to go swimming and walking and..well..she is just happy to be with you WHATEVER you choose to do.
She is estimated to be around 4 years old. Spayed, vaccinated, microchipped and ready to join your family. Would be best as an only pet but could possibly live with a compatible male dog.
Is she not the cutiest? **fostereed by R6Nikki**
Newman!!Newman is a VERY nice dog who has been let down over and over. Thankfully, when we assisted in getting him out of the shelter back in August, we had him chipped in our name, otherwise Newman would have become another statistic. Newman is only 15 months old and has been a stray three times that we know of and in the shelter twice. We were concerned that maybe he was a badly behaved dog or just too much dog. But that is far from the case. Newman is a good boy with decent manners (though he needs reminders..but he is quickly adjusting to what is acceptable and what is not. He knows his basic comands but we are brushing up on them. He walks well on a leash. LOVES a good game of tug. He adores children but he might be too much for smaller children. Newman comes with a discount if enrolled immediately in obedience training. Who could ask for anything more?
Demoli!!! is a ridiculously cute TINY pit bull puppy, estimated 4 months old. She is sweet and very well behaved for a puppy. but still very much a puppy. Working on being housebroken, does well with other dogs and humans of all ages. Demoli is everything people look for in a pit bull, confident, gregarious and stinking adorable!!!**fostered by Petpits**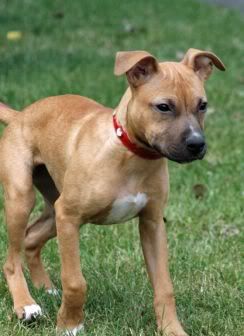 Rowan:
ADOPTED!! **fostered by Petpits**
Mira ADOPTED!!!!! **fosered by Violet**
Lucy goosey!! **ADOPTED****fostered by Petpits, adoption assisted by Noriko**
FLASH Medallion!!! ***ADOPTED***
**fostered by CHeshirekatt**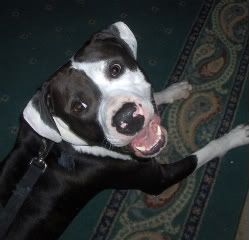 Hattie..**ADOPTED!!**
**fostered by Petpits**
Traffic,**ADOPTED!!**
**fostered by Noriko**
Poquita AKA Pokey.**ADOPTED!!**
**fostered by Cheshirekatt**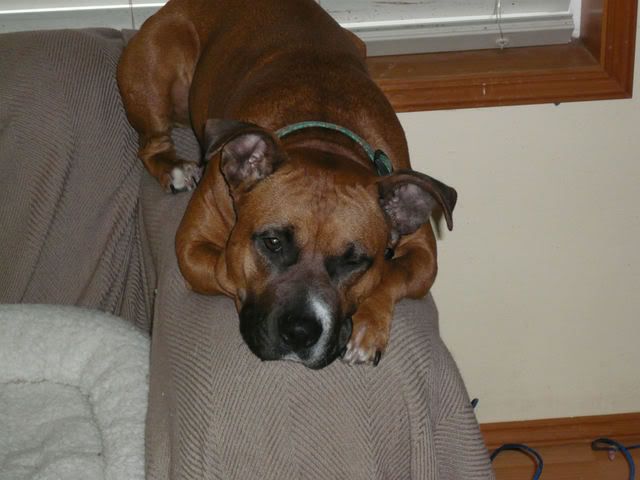 Sophia Rose
..***adopted!!***
**fostered by Karladaune**
Cowboy **ADOPTED**
**fostered by Violet**
Booker T..****ADOPTED****
**fostered by Karladaune**