Ollie is a dog we saved from being euthanized at the city shelter. Here is his video:
He is an awesome dog, but he's a LOT of dog, which makes him a hard to place dog.
So, I'm networking him, and we will do an out of state adoption if we can arrange a home check, etc. So please network him (and if you might be interested in him, let us know).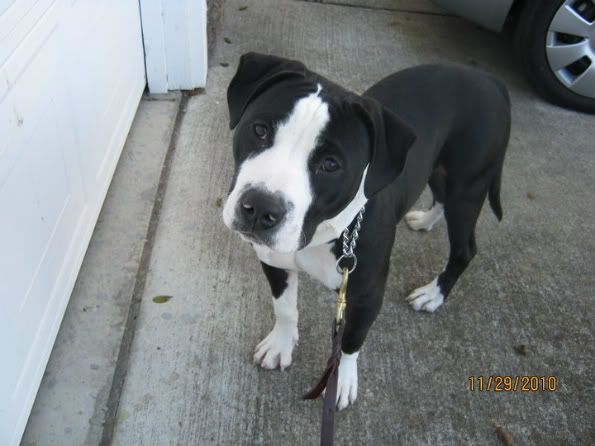 I'll tell you his good and bad points right now --
good: He's confident, loves people, and so far is good with other dogs (but he is high energy and plays hard with other dogs -- he's all play, but some dogs might object to him sommersaulting on their heads).
He's even good with cats, but of course being a high energy pup (about 11 months old now), he can be a bit much for cats, though he lived with a cat.
He's super smart and very treat motivated. He already knows sit, down, come, stay (though the home he was in might not have kept up on his stay, etc.)
Here's a little FB video (public) that shows some of the early obedience work
http://www.facebook.com/video/video.php ... 2649935527
He could make an awesome obedience dog in the ring, or an agility dog, or who knows what else. He needs an active home. Get him out and exercised and he's a great dog.
Oh, and he's also a looker. A seriously handsome dog, and fairly well put together structurally, from what I can tell (granted, haven't done hip x rays on him or anything like that...)
He's a nice, medium sized, energetic Pit Bull who loves treats and learns FAST. He will work and work for food. He's less motivated by toys than he is for treats but he is crazy about the flirtpole.
You can take anything from him and manhandle him. He's totally happy go lucky, but he can be a bit of a mouthy puppy (still).
The BAD:
He whines in his crate (I had broken him of it mostly, but the home he was in didn't want to stick it out now that he was in a new environment and trying his whiny thing all over again, so they didn't crate him).
He still has a habit of jumping up and nipping/biting people as he gets excited. It's all play, and again I had broken him of it with me, but now that we have him back from the home he was in, the temporary foster tells me he's still doing it.
He will jump a fence if he can. I don't know that he can scale a six foot fence, but he did get out of the home he was in, which is why we have him back. They apparently pushed a BBQ up close to the fence, and he hopped up on the BBQ and then over the fence (didn't do anything, but he ended up in the SPCA, we got a call and arranged him to get out of the SPCA, and removed him from the home after talking with the family).
He will chew and generally get into anything and everything if left to his own devices.
He's much better after he's been exercised and kept active, but if he gets bored, he's a typical Pit Bull puppy. When I fostered him, I made the mistake of setting a grocery bag on the floor for "a second" turned my back, and he waltzed over, reached his head in, grabbed an entire thing of English Muffins, and then proceeding to run from me around and around (dam these open floor plans!).
Normally I don't play chase, but these WERE the only package of English Muffins I'd bought and I wanted to save them.
I did manage to save the muffins.
Oh and he chewed through the former home's Internet cable.
He is not a dog for a couch potato. He is a dog for someone that wants a goofy, happy, energetic GORGEOUS Pit Bull and who wants to train him and doesn't mind a bit of a challenge. (He's actually super easy to train in terms of sit, come, down, etc. -- it's the other stuff that will prove challenging - the whining, chewing, jumping on people) - but nothing a reasonably skilled dog person can't manage.
It's a shame his home did not work out. We had had two different meetings with them prior to the adoption and did a follow up two weeks after the adoption and were actually about to schedule another follow up. Apparently, all was well until the dad's schedule got changed, and then they had "less time for him" and that's when he started getting into things, etc. I wish they had contacted us as soon as they'd started having issues, but they didn't *sigh* At least he is back with us now.
So this is Ollie. Interested in adopting him, let me know. Know someone, spread the word? Have a FB account, post him! He needs to find the right home. In the right home, he'll be an AWESOME dog. In the wrong home, he'll put the Marley in Marley and Me to shame