Glad to hear Lucy is doing alot better!!! That is quite a scare!
Here is a a video I took on the 8th.. I tried to get him to stand still while we were on a walk.. you can get idea of what his legs have been doing. sometimes its worse, sometimes its only one leg, other times both.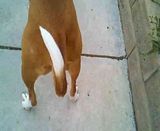 Here is one from today when I came home to take him out for potty. I had given him half a rimadyl this morning with his meal.
Im not the best video taker.
I tried to get one of him walking... other than the shaking in his legs when standing he seems normal.
Once the weather gets warmer, Ill start taking him places to swim.