Hi all! I'm a 26 year old male from Pennsylvania, and my wife and I just recently adopted a two year old female pitbull named Becka. We already had a 1 year old male lab/shepherd/sheltie mix named Emmitt, and two cats.
When we adopted Emmitt, we were really interested in getting a pitbull, but he grabbed our attention and we ended up with him. Don't get me wrong, we absolutely love him - his personality, energy, etc - but about a month ago we decided that we wanted Emmitt to have a buddy, and we decided that it had to be a pitbull. We found Becka at the first shelter we went to, but we also went to four or five others to make sure she was the one. She really sold herself. She gave us hugs, kisses, you name it every time we saw her. She knew her name and basic commands, and listened (and still does) very well. We visited her a couple more times, and finally decided to bite the bullet and take Emmitt to meet her.
Things went pretty well at their meet. Emmitt loves every dog he's ever met, and we were told the same about Becka (she was there for a couple months so they got to know her pretty well...can't imagine why she was there so long, but it was a win for us!). We were hesitant about bringing a pitbull into a house with another dog, but we were confident that we could manage them, and that everything would be fine. We put in an application, and two weeks ago she came home.
Since then, things have been pretty good. We keep them separated when we're not around, so no worries there. We can't sit down or lay on the couch without her snoring way next to/on top of us, which we have absolutely no problems with. We're working to get her to only come up when we tell her to (which will be all the time pretty much), but we want to set that boundary. They play very rough with each other, but I don't think it's anything alarming. Neither cry or get hurt, and they always both keep going back for more.
The main reason I searched out a pitbull forum is because I don't have a huge amount of experience with pitbulls, and zero experience owning one. One of our close friends has a female pitbull (who Emmitt loves), but that's where my experience stops. I'm mostly here to learn more about the breed from more experienced owners so we can be sure that Becka and Emmitt have the best lives together they possibly can.
Pictures: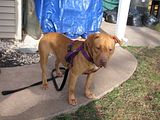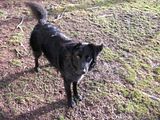 I look forward to reading and posting!