I'm Kat, married for almost 10 years, and lover of my Puma girl for a year. Puma was a year old in June. She's supposed to be an APBT, but we never received her papers and sometimes it seems there might be a little bit of something else in her. It really doesn't matter to us though...we know she's a dog and we love her for it!
Puma is our first dog. I grew up with dogs my entire life, although we never had a pit bull. My mom has believed all the negative press on pit bulls, akitas, and rottweilers. My husband's family were cat people, although they had a few dogs during his high school and college years. We both have always known we wanted a bigger dog, and many of our friends have had wonderful pit bulls and we knew that someday we wanted one.
Puma has naturally always been an awesome, obedient dog. She isn't a barker, walks decently on a leash and most of the time listens to commands. She has totally warmed my mom's heart! Everyone who meets her, absolutely loves her! We are moving in September and have a huge back yard for her to enjoy. Its got some great walkways around and is less than a mile from one of our area dog parks. I haven't decided if I want to continue at the dog park though. We've only visited this past year when we were with friends or the park was empty. Now that we'll have a back yard, we'll probably stick to play dates at our place.
I'm really glad to have found this place! We thought we had a decent amount of knowledge of the breed when we picked Puma up, but the more we learn, the more we want to learn! Here are a couple of my favorite pictures! Most are several months old...I need to move some pictures over from my phone soon.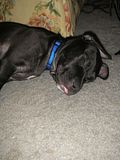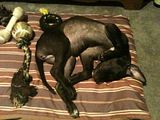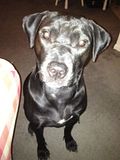 Kat