Longtime lurker here!
My name is Jasmine, I tend to go by Jaz or Jazi. I'll be 20 on the 21st and I'm an art student out here in Amish country Pennsylvania. I'm not a huge pit bull fan- I tend to go more for the German protection dogs such as Dobermans and GSDs, but that's not to say I dislike pitties either. My introduction to the breed was nearly 8 years ago now when my sister took in a litter that her neighbors were using as bait. My family managed to successfully rehome all but one (shelter in the area would have euthed for DA) and my sister kept the remaining, a red brindle female. Baby is still dog reactive/selective, but my sister and her family have learned her limitations and continue to work with her every day. I still see her and her housemate (a 2yo rescued chi x named Buster) from time to time to work with and walk them.
I grew up with 3 GSDs and 2 GSD mixes, and for a year I "owned" a chow/lab/golden/??? rescue named Mocha. My parents decided Mocha is really their dog when I moved out for college, so I've been without a dog of my own for about 2 years now. My other sister has a 2yo GSD/GSP rescue named Titan and I have been "voluntold" to train him in the meantime. I call them all "my" dogs but they're not really, I don't live with them and the only thing I'm in charge of is training. I also occasionally work with my grandfather's puppymill rescue JRT named Snap whenever I'm visiting. Forgive me for terrible picture spam!
Mocha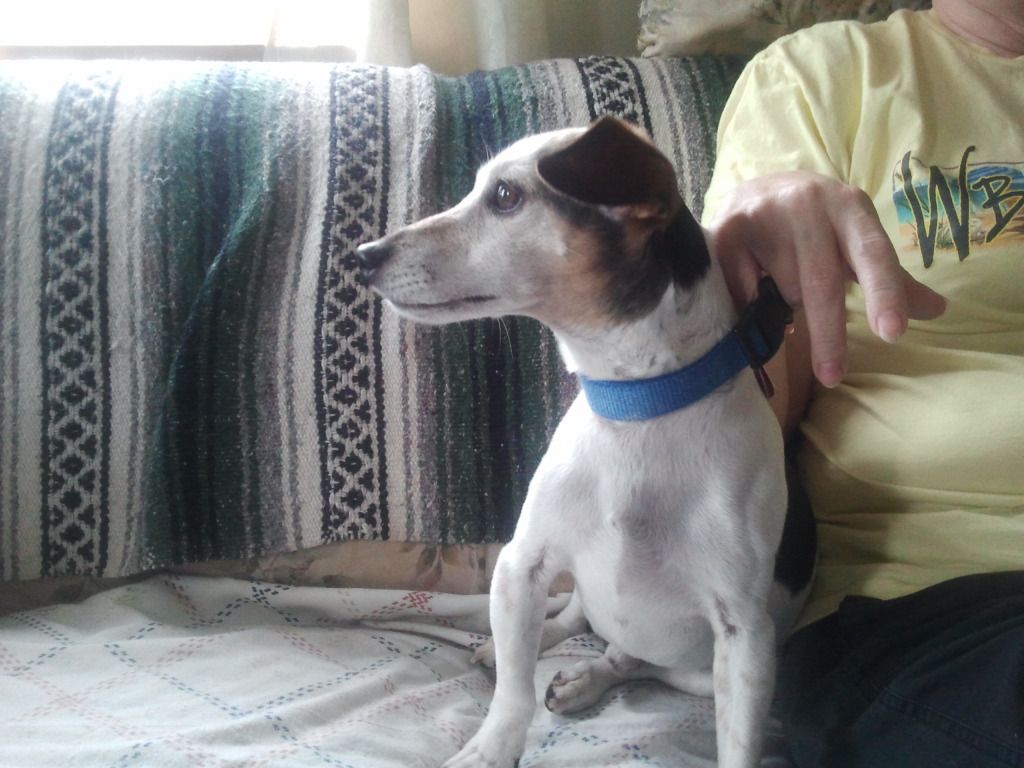 Snap
Titan
Titan and Mocha romping. The chain is on Mocha because she slips her normal collar... they put her tags on it. I've been trying to convince my parents to let me switch her to a martengale with no success. I even went out and bought one and they refused to let me swap it, so I gave it to Titan instead because my sister was having the same problem.
Buster
Baby
I also own reptiles and cats and sort of co-own a feeder colony of rats with one of my roommates. I have a yearling ball python named Quetzal and I used to have a little rescue corn snake named Jormungandr/Jor. Sadly due to malnutrition from his previous situation he did not make it. Saffron is my soulcat who picked me when I went to the local kill shelter to adopt. My other roommate also owns a cat named Z, and the roommate with the rats has 2 pigeons. It's a regular zoo here! I am a foster home for a local reptile rescue, though they get very few of what I'm able to foster so I have not been contacted yet, I participate in shelter events from the same place I adopted my cat, and I've begun to be involved with the local dog clubs. Oh, and I work retail
I'm semi-active on a variety of animal forums though I am much more of a lurker than a poster. I play some videogames, read, write, and watch some TV, but the majority of my time is spent running after animals whether they're mine or a friend or relative's. If I'm not doing that I'm probably doing my classwork or commissions. If anyone wants to see either the non-dog animals or the art stuff, I'll post it. I just don't post the snake unless I know they're welcome.