My name is Kara, I'm 40 years old and I live in CT. I have four kids (20, 12, 8 and 6) and three dogs. I'm very into rescue and stay active in the rescue and shelter community. I really have a soft spot for dogs who've been abandoned and discarded by people. Their capacity to continue to love, trust and be loyal after such a betrayal never ceases to amaze me. I've learned a lot from dogs.
My oldest dog is Halley and she is now 12. She is the one that really introduced me to the pitbull breed and, because of how amazing she is, she really is the reason I fell in love with them... especially the mutts.
She's a lab/pitbull mix and I adopted her from a shelter in Florida in 2002. I went to the shelter wanting to adopt, but had no specific type or breed of dog in mind. I just wanted one that was right for our family. While everyone else at the shelter was fighting over the tiny dogs and the puppies, which I was not interested in, I continued walking down the row of dogs until I came to the cage at the very end that no one was looking at. All the other dogs were barking and jumping against their cages, but she just sat there calmly and looked at me with the most sweet, soulful eyes. I knew right away she was my dog. Her paperwork said she had been returned twice. The reasons given were that she was destructive and not housebroken. So, I figured we'd just need to work on those things. As it turns out, this girl never once destroyed anything and she'd sooner have her bladder burst than to ever go to the bathroom in the house. She was perfect from day one. I think about those previous owners and the people who ignored her because of her color, her size, her age and her breed and I feel sorry for them. They missed out on the most amazing dog I've ever known. The neighbor we had when I adopted Halley was at first very suspicious of her and a bit afraid of her. Within a week he was saying to me, "If you ever, ever, for any reason, cannot keep this dog, I want her, please!" That says a lot about how wonderful she is. She's been with our family through so many changes: cross-country and cross-town moves, new babies, divorce, remarriage, new dogs, foster dogs... and she's never faltered. I love her madly. I wish I could turn back the clock for her and make her young again because I just can't imagine ever being without her. This is our girl, Halley:
Those eyes...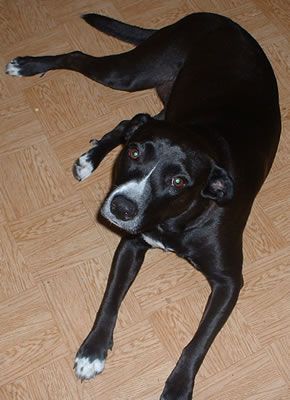 A pibble pillow...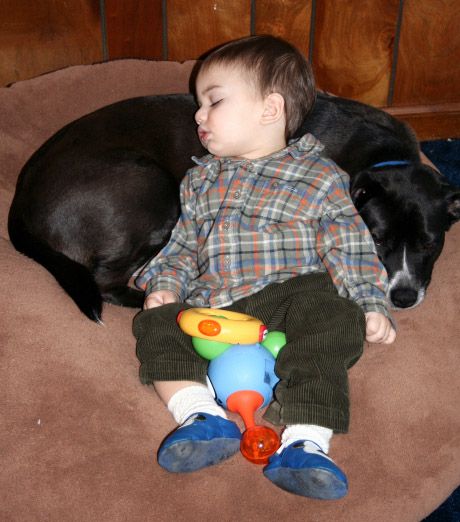 Warmly welcoming Lila to the family...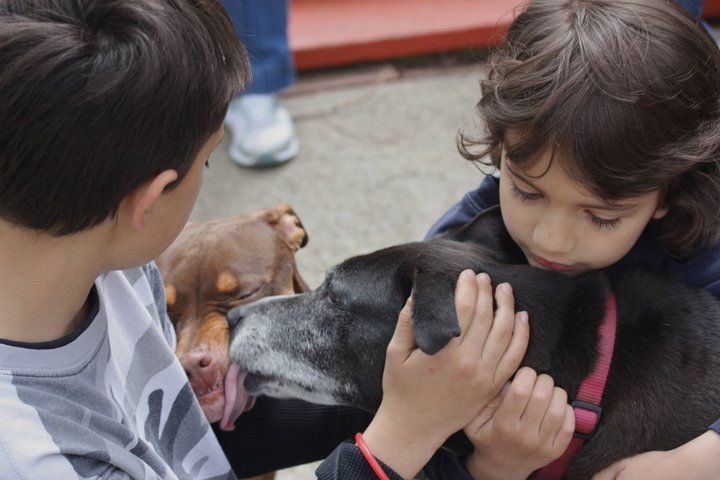 Lila is our little 3 year old chocolate girl. She's the smallest of our three and we call her our pocket pit. She was picked up as a stray on the streets of NYC and was taken to a shelter. She was underweight and had a terrible skin condition that got much worse before it got better. A local rescue pulled her and we adopted her. She's been with us for two years now and she's the sweetest lap dog. She just wants to be near her people all the time. She's the cutest, most wiggly little thing and she's definitely my kids' favorite. She can be a bit jealous and if the other dogs are getting attention, she tries her hardest to box them out and get all the love. We've been through a basic obedience course with her and she's very smart and picks up things quickly. Her training goes out the window when the other dogs are around though because she's just so focused on stealing the show. I'm working with her on training with distractions to overcome that. She makes the most hilarious sounds when she's playing and has the loudest yawn I've ever heard. She really keeps us laughing. Lila would be an amazing agility dog and I've been thinking about getting her into a class for it. And here's Lila:
This is her shelter picture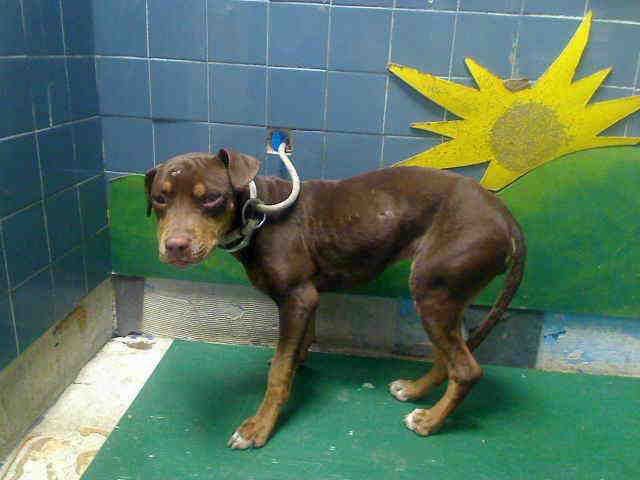 And this shows how bad her skin got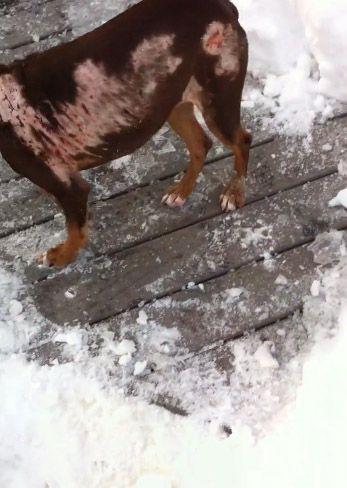 But she's all better now!
Beautiful girl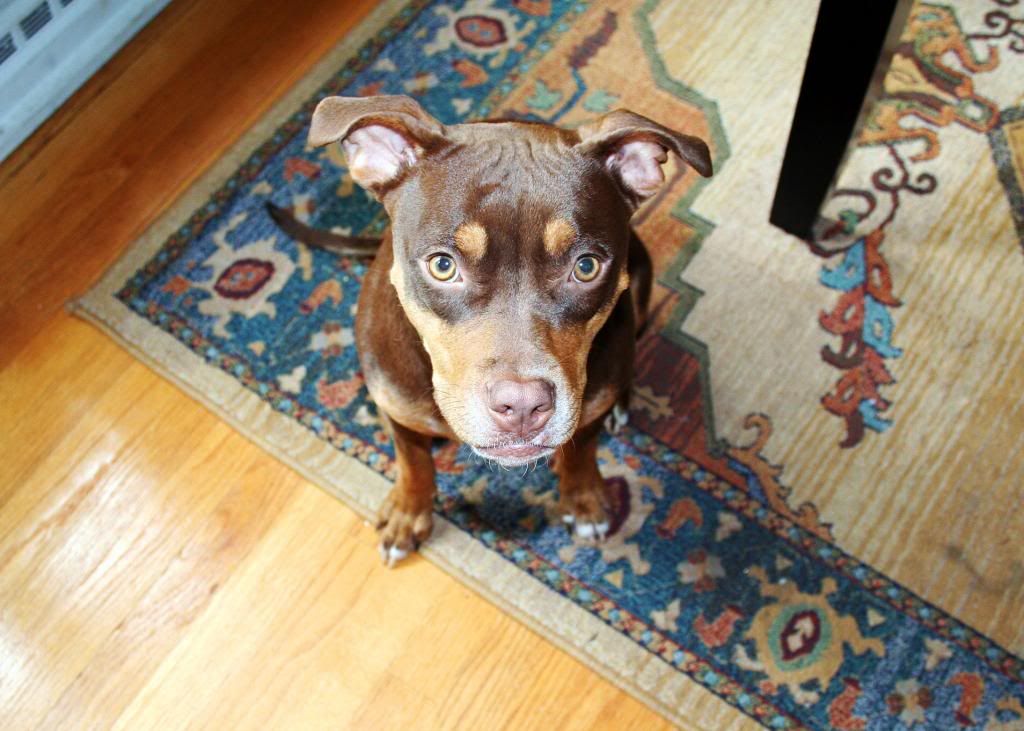 Lila with my daughter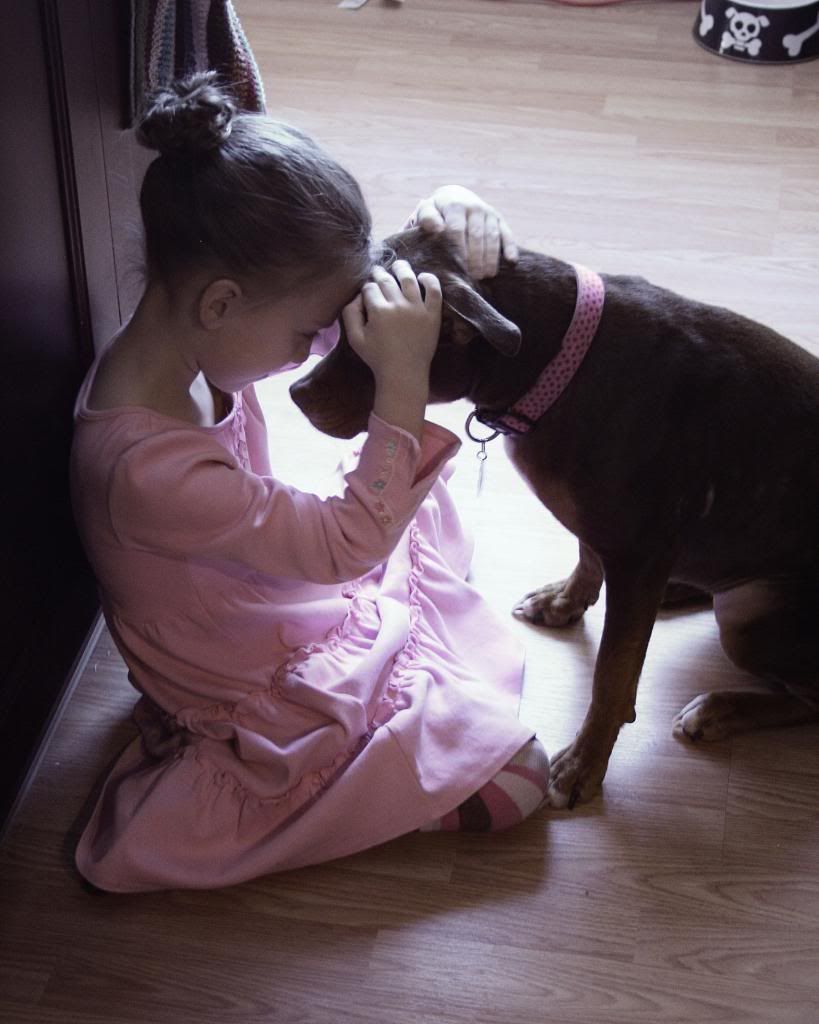 And then there's Jane. She's about a year old now and is a foster failure. Jane and her sister, Jenny, were picked up as strays, wandering in a field in NC, at about 8 weeks old. They had severe mange and were emaciated. The shelter was going to put them to sleep if a rescue didn't pull them because they were deemed unadoptable for health reasons. So, I offered to foster and they were put on a transport to me here in CT. Jenny was in much better shape than Jane. Jenny was totally happy-to-lucky, laid back, playful and just really well rounded. She was adopted three months into my fostering them. Jane had some fear issues. She was terrified of leashes and collars and of going outside. She would shiver and cower. It was really heartbreaking. I decided to keep her, not only because I fell in love with her, but also because I knew she needed time and work. The first training class I brought her to, she was so terrified that she belly crawled across the floor and hid shaking under my chair the entire class. I'm happy to say that by the end she was walking confidently on the leash in and out of the class and was much more open to meeting new people and dogs. We're still working with her, but she's definitely come a long way and I'm very proud of her. She's the biggest of the gang, being a pitbull/mastiff mix. She's clumsy and goofy, which I just think is the most adorable thing. I'm going to miss that once she leaves the puppy stage. She's also a very smart girl and picks up new things the quickest of them all. Of the three of them, she is the most expressive and you can always tell just how she's feeling.
Here's Jane's shelter picture (both of these pictures are of her):
Her first day home
Miss Squishy Face...
Sweet girl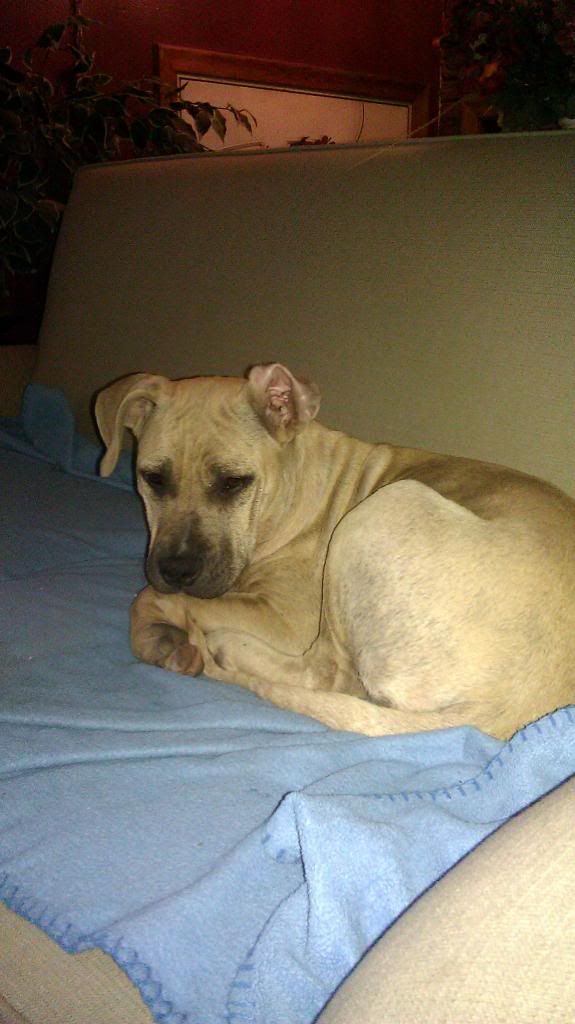 Jane and Lila... two peas in a pod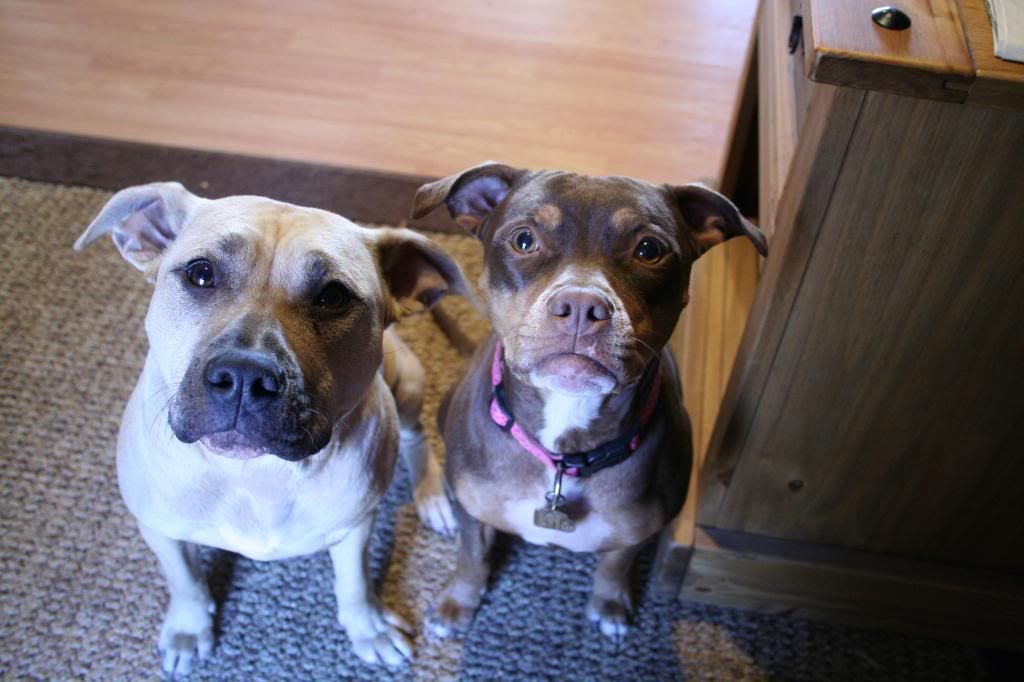 I'm happy to say that all three of my dogs get along beautifully with each other. I had some people express concerns about having three females so I was (and always am) very watchful of them. But they absolutely love each other and there have never been any issues between them. I'm very proud of my crew. <3
So, that was a looooong intro. I hope you were able to get all the way through it. It's hard not to go on and on when I'm bragging on my girls.
Can't wait to meet everyone,
Kara