Miley is currently being cared for by a groomer friend of my mom's. her neighbor was keeping Miley and her puppies in a garrage with no heat or ac, when the groomer lady inquired the owner broke down, said she couldn't care for her and was considering shooting her, as she thought that would be better than letting her suffer in a hot garrage. The groomer offered to take her, when she arrived all the puppies were gone, not sure where to.
Miley was a tiny bit shy with my husband, who is rude like a puppy with most dogs (and is lucky he has never been bit as he tends to jump in new dogs faces and kiss them
) but when he put her down and stopped squeeling at her (yeah, that bad, no matter what i say to him) she just looked around and went back for more. We spent the afternoon with her Sunday 8/12/11 and my mom, who isn't even a big dog person, her husband, my husband and I all quickly fell in love. the couple who have her love her too, but she is dog aggresive and they have a lab and a boxer. From their description, she is shy and seemingly feerful around other leashed dogs, but if they get to close to her she lashes out defensively and like she REALLY means it. she can be easily walked in the presence of other leashed dogs, but does not want to interact with them and definately doesn't want to live with them, unless it were a crate and rotate scenario. This is what they are doing now, and will continue to do, but they work a lot and she clearly wants to be with people more.
miley is housebroken, and does fine with being crated. Her former owner said she was wonderful with their 2 year old (presumably for the odd moments she was out of the garrage). she should be the only pet, they said the few cats she's seen clearly look like furry squeeky toys to her. she is very playful and toy oriented, and has learned a few commands quickly and easily. she is very soft, all her playfulness is inhibited and gentle. she is perfect, as long as someone can handle some very handleable DA and doesn't mind a few scars and some droopy boobies. She is just SWEET, and prances like a cartoon puppy when she walks. I would guess 1-3 years old, but i think she is closer to 1. she is a little banged up which i think makes her look older, but her teeth are in great shape, as is her skin and coat, she is a healthy 50 lbs or less (by my husbands pick you up like a baby weight estimate. i love this dog. She is with people who are not super familiar with pit bulls but who really love her, they are also very busy and not computor people so i am trying to help get the word out about this awesome little girl.
I think Miley would make a great family dog for people who only want one dog and realize she won't be an off leash at the park dog (they heard she might have some escape artist tendancies from the former owner, so containement is important, too). I feel sure that this dog would excel as a couch snuggler, play fetch with the kids heart warmer. her DA issues do sound fear based and she is non reactive as long as dogs leave her alone.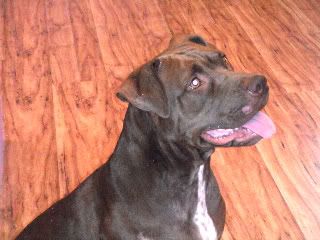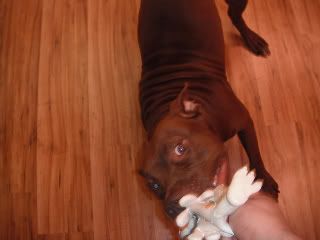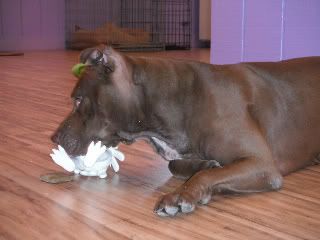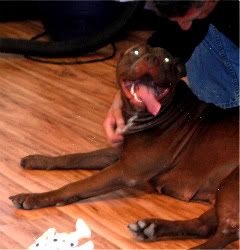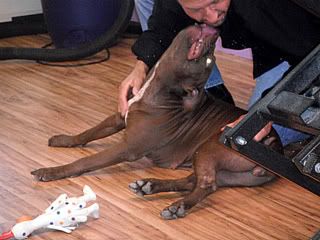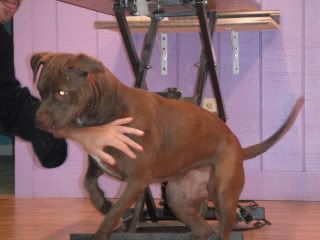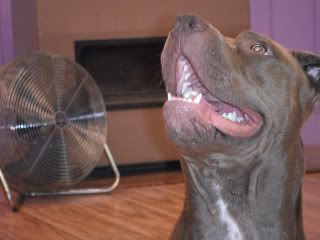 She LOVES her rubber chicken and playing fetch. She also gives lots of kisses but is polite about it and waits till you invite them, unlike my dog that shoves his tongue down everyones throat. She also looks like a littler, squattier version of my dog, and I have to keep reminding myself that my house is too small and we work to much to rotate two young dogs. I would call her medium energy, ready to play or just as happy to settle, and very people soft and eager to please (ecxept maybe in the recal department. Sorry this is so long, I love this dog!